#IWD2020 – Representation and Retention: How our practice's progressive principles translate into our record on gender diversity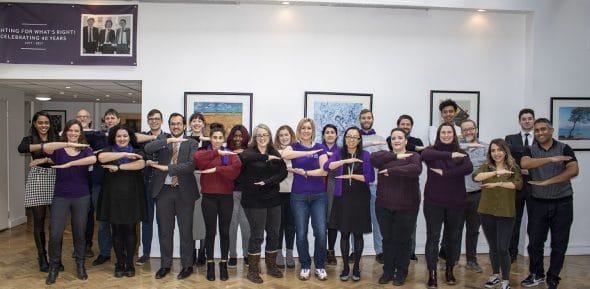 At Hodge Jones & Allen, legal representation is for everyone. And we strive to deliver this commitment in its fullest sense, because we know that what is best for our clients is also best for our business.
Just as every individual seeking advice from HJA has the opportunity to defend or assert their legal rights, no matter how powerful their opponent, so every lawyer at HJA has the opportunity to advance their career and develop into the very best legal professional they can be, no matter their identity. We believe that legal representation should reflect the real people, as well as the nuances of the law.
HJA has been providing legal advice in the UK for more than 40 years and, during that time, diversity and inclusion has always been at the heart of the firm. As an employer of choice, we know that diversity is not accomplished with a single conversation: it takes sustained engagement, examination, and expertise.
Our commitment to creating equal opportunities for everyone regardless of gender, background or disability, and our active promotion of equality within the workplace is paying off. This International Women's Day, we celebrate that 64% of our Partners identify as female, and 74% of all solicitors across the firm. This puts us firmly above the most recent findings from the Solicitors Regulatory Authority, which noted that a mere 33% of Partners identified as female across the UK, despite making up almost 50% of the profession.
We actively promote an environment where every individual is respected, and given fair and equal treatment with attention and courtesy. Our recruitment process looks at all the possible ways to attract and keep talented legal minds. And, for our trainee solicitor programme, we have extended this even further, introducing blind recruitment. This means that candidates will be selected for interview on the basis of their application form, without reference to their personal details or which school and university they attended. This will ensure that only the best candidates are selected regardless of their background.
Amongst the manifold strengths our diversity brings to the firm are also high rates of employee retention. When people feel valued and seen at work, they are more likely to remain in a business. We encourage flexible working, not just to champion our high numbers of senior female staff, but to accommodate all employees' personal situations. We also provide paid maternity and shared parental leave entitlements for our staff. Research shows that the diversity which comes from these evolutions in the workplace directly correlates with the performance of a business.
HJA's mission is to fight for the rights of individuals. Why would we ignore the rights of our employees? When fighting for a world where people are treated with respect and treated with justice, your own backyard is as good a place as any start.
And so, with that in mind, we want you to hear directly from our employees, who tell their own stories and struggles best. With the theme for this year's International Women's Day being equality, our staff have written a collection of blogs reflecting on what 'equality' means to them and to their practice.
Katherine Brown has written on the progress equal pay has made in the last 50 years since The Equal Pay Act, and how the precedent of high-profile cases, such as Samira Ahmed v BBC and internal initiatives have increased the establishment of equal pay in practice.
Susie Al-Qassab's piece provides key answers to some common myths and misconceptions about maternity and pregnancy protection in the workplace.
Ellen Clabburn writes in defence of sports banter, providing a proper definition of harassment and what employers can do about it.
Chun Wong tells the story of the Magdalen Laundries and HJA's fight for justice for women who were exploited in those laundries.
Sophie Bell's blog is a personal account of her experience as a working mother, and offers solidarity to other women balancing working and parenting, as well as advice to those considering going down a similar path.
Aneela Samrai, a recent addition to the HJA family, has interviewed successful women from both HJA and her life outside the legal profession, creating a compendium of advice for young women entering the workforce.
Jack Williams' blog looks at the developments in property law for women, and how far (and not so far) we've come in various aspects.
Sioned Wyn Roberts' piece examines the connection between domestic violence and homelessness in the context of her practice as a housing solicitor.
Vanessa Friend describes the differences between the legal protections conferred on married couples, civil partnerships, and cohabiting couples.
Nezire Turkan looks back at the landmark milestone of women celebrating 100 years of practicing law in 2019 and writes about her personal journey to the law.
Brid Doherty writes about the impact of imprisonment on female inmates. She highlights that many of the women currently incarcerated are extremely vulnerable and pregnant individuals, and argues against the privatisation of prisons by companies such as Sodexo.
And then we come full circle with Homa Wilson's blog, which describes the double penalty of gender and race for women of colour, and the challenges female academics at UK universities face in recruitment and promotion in their careers.
These blogs cover a variety of topics, but importantly they all offer solidarity and understanding of the progress women have made, and the struggles left to conquer.