Teenagers meet up with HJA staff to discuss the law and access to justice
Last night (Wednesday,1 August 2017) Hodge Jones & Allen hosted an evening for Year 12 students from across the UK who are taking part in a week-long residential Summer School, organised by the UCL Access to Justice Centre. The Summer School is aimed at 16 and 17 year olds who are thinking about a career in law, many of whom are the first generation in their family to plan to attend university.
Paralegals, trainees and solicitors from across the firm's departments spoke about their route into law and the realities of daily life as a lawyer committed to upholding the rights of often vulnerable clients. It was a real insight for the students to hear about our stories from a spectrum of law: ranging from the grittiness of representation in a police station to the glory of advocacy at the Royal Courts of Justice. The practicalities of studying and working in this area of law were discussed – including the financial costs of study, the need for drive and determination, and above all the privilege of having a job in which each day, as the old Proverb says, we get to 'speak up those who can't speak for themselves.'
Commenting on the evening, Ed Veale, Associate in the Housing Team, said, "It was fantastic to see these teenagers spending a week of their summer holiday to wrestle with big topics of human rights and the need for legal aid – and how they may want to use their future careers to serve and represent those in need. Their questions kept us on our toes and it was an enjoyable evening for my colleagues and me to give an insight into the ups and downs of the job."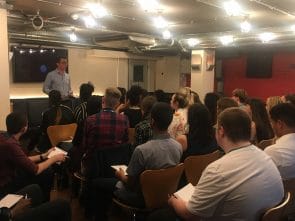 This event is one of several initiatives springing from the publication of the firm's Innovation in Law report in 2015, in which HJA committed to establishing an HJA education scheme to promote the justice system through schools, youth and community groups.
In March 2017, we hosted an evening for undergraduates considering a career in Legal Aid, where over 80 students from across the UK were envisioned as to the realities and necessity for lawyers committed to representing them. The firm continues to deepen its partnership with the UCL Access to Justice Centre: in Spring 2017 staff from the HJA Housing Team supervised a number of law students in their preparation and delivery of Housing Rights workshops for community groups in Haringey.
Having been involved in these various activities with UCL, solicitor Sadhari Perera comments, "It's great to engage with so many young and enthusiastic lawyers-to-be. It is always inspiring to be around such talented individuals who are looking to make a difference."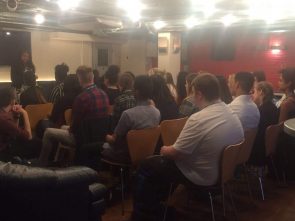 Plans are underway for the next event with the UCL Access to Justice Centre in Autumn 2017 and details will be announced nearer the time.