North London solicitors launch radio phone-in for London Bengali community
North London solicitors, Hodge Jones & Allen today launch a new legal advice radio show on Betar Bangla, the first radio station aimed at London's Bangladeshi community.
The inaugural phone-in will be hosted by clinical negligence partner, Nina Ali and housing law partner Daniel Fitzpatrick. Nina and Daniel will be on air between 4 and 5pm every Thursday. The legal duo will take questions from callers seeking legal advice, focusing on a different subject each week to provide listeners with a better understanding of their legal rights.
The first show will take listeners questions on new government legislation aimed at giving landlords responsibility for checking the immigration status of their tenants and on how to make a complaint against the NHS if you are unhappy with the treatment you have received.
Betar Bangla broadcasts to over 70,000 listeners on 1503AM, with a further 30,000 listening online. The station, which launched in 2000, runs 24 hours a day and is staffed by volunteers from the Bengali community. It broadcasts news, current affairs and music as well as covering literacy, health, fitness, legal issues and citizens' rights.
Nina Ali of Hodge Jones & Allen says: "Our new radio show is aimed at those in the Bengali community who have specific legal issues or want to know more about their rights in general. Perhaps they are in dispute with their landlord, are not happy with care they or their family have received from the NHS or are unsure about whether they have a claim following an injury.
"We hope that callers and listeners alike will be able to benefit from the firm's legal expertise and that the show will give them knowledge and confidence about their legal rights, empowering them to seek advice if they feel they have suffered an injustice."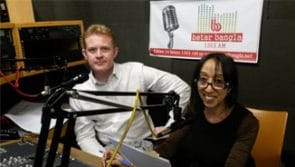 Ends
All press enquiries to:
Louise Eckersley, Black Letter Communications on 020 3567 1208 or 07766 573844, email: louise.eckersley@blackletterpr.co.uk
Kerry Jack, Black Letter Communications on 020 3567 1208 or 07525 756 599, email: kerry.jack@blackletterpr.co.uk
Notes for Editors
Hodge Jones and Allen was founded in 1977 in Camden and has over 220 staff based in Euston NW1. The firm's team of specialists includes – Personal Injury, Medical Negligence, Industrial Diseases, Civil Liberties, Criminal Defence, Court of Protection, Dispute Resolution, Property Disputes, Employment, Family Law, Wills & Probate, Military Claims, Serious Fraud and Social Housing.