Young Mum Wins Battle to Stay in Her Home After Two And a Half Year Legal Battle
A mum-of-four who faced eviction from her house five months after she gave birth to twins has won a two year legal battle to stay in her childhood home.
Danni Morris, 24, gave up her council flat while heavily pregnant to care for her cancer-stricken grandmother and moved back into the family home in in Canonbury, north London, in August 2017.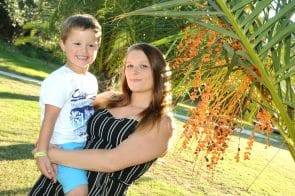 But her grandmother, who brought her up in the house, died the following month – 24 hours before Danni was due to complete the move out of her home in Clerkenwell.
After the funeral Danni applied to succeed the tenancy, but because she hadn't lived there for a year it was rejected and she was served notice to leave.
She had been fighting the Islington Borough Council's decision, with the help of housing law specialists Hodge Jones & Allen, and after two and a half years was granted a tenancy of the property.
She said: "I am so over the moon that me and my kids have been allowed to stay in our home and I can't put into words how happy we are. This has gone on for two and a half years and it has been a really trying time. I had to go to the doctor as I was suffering from depression.
"I am really happy that I don't have to uproot the children. My eldest Kayden has been asking if we are moving and I haven't been able to tell him until now. Now he is really excited about setting up his room. We have been in limbo for so long."
Danni, who works for Barclays Bank, successfully secured her tenancy when a judge at the Clerkenwell and Shoreditch County Court ruled that she should be allowed to stay in her house. This followed negotiations between Islington Council and Danni's legal team, which resulted in both sides agreeing that she should be allowed to succeed to the tenancy.
Danni added: "I moved in so I could care for my nan and gave up my two bedroom house so that somebody else could have it. But tragically my nan died soon after I moved in.
"When I applied to take over the tenancy of the house I grew up in they said I wasn't eligible as I hadn't lived there for a year, even though I lived there as a child. It was really worrying and I can't thank my solicitor Siddiq Fazaluddin from Hodge Jones & Allen enough."
Siddiq Fazaluddin, a specialist housing solicitor from Hodge Jones & Allen, who is representing Danni, said: "We are pleased that Danni and her young family have been allowed to stay in the home that she grew up in. This was incredibly important for her as she faced being moved away from the area and potentially becoming isolated away from her friends and support network. Danni should never have been placed in the position of fighting to stay in her home for two and a half years, but it is good news that this burden has now been taken away."