Hodge Jones & Allen puts clients first with new brand refresh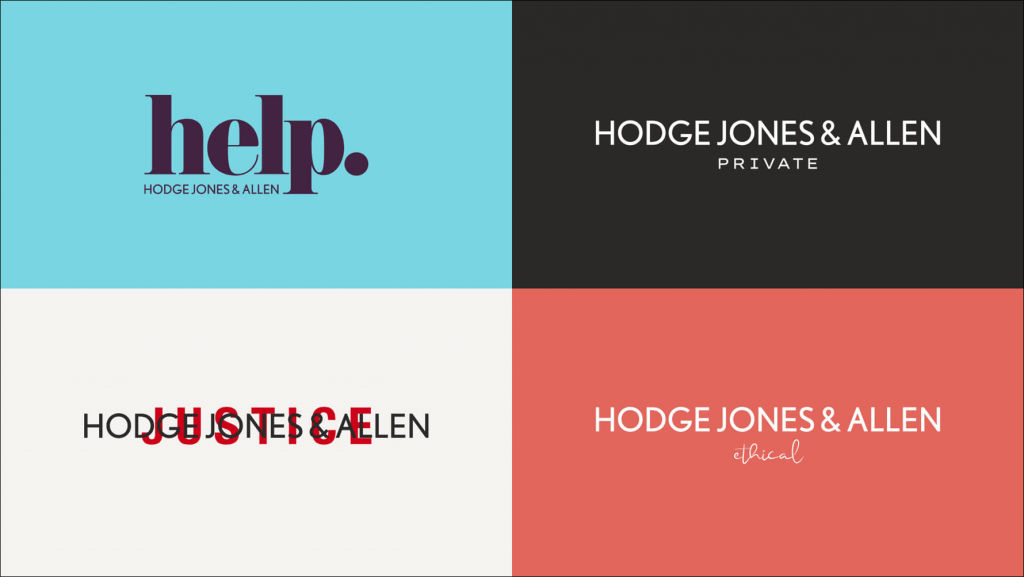 Law firm Hodge Jones & Allen (HJA) has launched a new multi-voice rebrand to reflect its growing, diverse client-base, and better support the public it represents.
The award-winning law firm has worked with branding and design agency, realityhouse, to present a brand refresh that mirrors the firm's ongoing investment in its 'fight for what's right' ethos.
The rebrand is a culmination of HJA approaching 45 years of fighting for justice for those who fall victim to the State and the police, or those who need specific help and support. Also included are services for private clients, related to life changes or milestones, and ethical law, for businesses seeking best governance practices.
Its modern design and clear emphasis on HJA's different voices and clients give a dedicated identity to each service and provide direct routes to HJA's multitude of teams, so that help and support can be accessed quickly.
The dedicated services are outlined as:
Justice – when injustice reigns, our teams step up to help people fight back against injustice in the establishment, institutions and wider society. We want peoples' voice to be heard.
Help – our front-line support for people in distress. Whatever people have to deal within, our team is on hand, every hour of every day. When they've been hurt, let down by someone or made a mistake and don't know what to do next – we help.
Private – a collection of legal services tailored to help clients navigate complex and often emotionally difficult times in their lives.
Ethical – a range of services specifically designed for business and business owners that focus on balancing purpose with profit.
Patrick Allen, senior partner, said: "Our clients' interests have always been paramount to us. Over 43 years we have shown how to resolve their personal legal matters, fight for their rights and achieve successful outcomes so that our clients can move on with their lives.
"The building of the new website has been an important challenge during lockdown as we got even closer to our clients at this difficult time. We wanted to build on the brand of HJA and offer clear routes to the most appropriate teams. I am proud of the huge range of the legal services we provide made clear in this bold and innovative website. The introduction of the themes of Justice, Help, Private and Ethical will help our clients quickly find the right team to provide the services that they need."
From the law firm's inception, the ethos of Hodge Jones & Allen has been fighting for justice, helping our clients assert or defend their rights often against very powerful opponents. This is still reflected in the firm's cases, with recent examples including:
This is in addition to HJA's contractual work, such as supporting B-Corporations and other ethical companies with their HR and employment law needs, providing pre-martial and cohabitation agreements for partners and families, and acting as deputies for vulnerable clients who lack capacity, among many other legal services.
Mike Fieldhouse, managing director of designer agency realityhouse, said: "When we first started working with HJA, it was clear that we had to find a way to distinguish all the different voices across the firm. In the same way that brands such as the BBC have clear and distinct visual identities for their different offerings, we wanted to provide HJA's clients with a clear pathway for their needs. We've loved working on this project, and we can't wait for clients to start using the site."
For further information, please contact:
Yellow Jersey PR:
Georgina Whittle, Partner
Georgina@yellowjerseypr.com
T: 0808 239 4011 | 0808 239 5975
Sarah Jehan, Associate Partner
Sarahjehan@yellowjerseypr.com
T: 0808 239 2247 | 0808 239 5975
Alex Crean, Account Executive
Alex@yellowjerseypr.com
T: 0808 239 3996 | 0808 239 5975
Emma Becirovic, Account Executive
Emma@yellowjerseypr.com
T: 0808 239 8378 | 0808 239 5975