Dad Who Beat Cancer Twice Died From The Disease After he Was Exposed to Asbestos
A father-of-one who survived cancer twice died when he contracted it for the third time after being exposed to asbestos.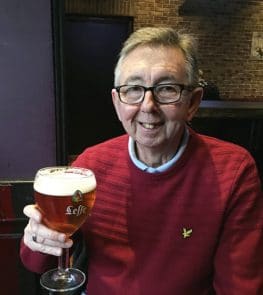 John Rogerson, 65, survived Hodgkin's Lymphoma and Prostate cancer and joked that the disease would 'get him in the end'.
In a tragic twist John, from Northfleet, in Kent, died just weeks after being diagnosed with incurable mesothelioma, which is contracted by breathing in microscopic asbestos fibres.
John's widow Ann, who was married to John for 40 years, said: "When we got the news that he had mesothelioma it really floored us. John had always said cancer would get him in the end after surviving it twice before. Unfortunately he was right.
"John was suffering from a bad back and we just put it down to his age and all of the lifting he had done over the years. He went up to see his mum at Christmas but didn't feel well when he got home. He went to the doctor who sent him to hospital where he had a biopsy. We were all shocked when the results came through.
"What was even more shocking was how quick it was from him being diagnosed to him dying. He must have been going through the final stage but up until then he wasn't particularly ill. Looking back he wasn't himself but nobody expected this. It's so sad as he only retired in the November before and he never got to enjoy himself."
The couple met in Mallorca 42 years ago where they enjoyed a holiday romance.
Ann said: "It was a holiday romance that lasted most of our lives. John lived in Manchester and when we got back from holiday would travel up and down to see me at weekends. In the end he moved in with me and my parents. A year later and we were married.
"John was a typical Mancunian; he was very sociable and was liked by everybody who met him. He was a joker and the life and soul of the party"
Now Ann is appealing for help from any of John's former workmates to provide information about his exposure to asbestos. She is looking for anybody who worked alongside him at the Bowater Scott paper mill in Northfleet between 1977 and 1987 or at ARJO Wiggins Carbonless Papers in Dartford, Kent between 1990 and 2006 to get in touch.
Andrew James, a specialist mesothelioma lawyer at Hodge Jones & Allen, representing Mrs Rogerson, said: "Mr Rogerson worked hard his whole life to support his family and was looking forward to a well-earned retirement when he received the news that he had contacted mesothelioma. His life was cut tragically short. We are particularly concerned with Mr Rogerson's work in two Kent paper mills and we are keen to speak to any of his former work colleagues from those places."
Anybody who worked with John should call 020 7874 8458.