Carols in the Bar 2016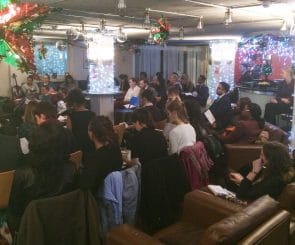 For the sixth year running, Hodge Jones and Allen hosted its annual Carols in the Bar on 14 December 2016, supported by the Lawyers' Christian Fellowship. We had a fantastic evening, warmed up by the mulled wine and brass ensemble, and aided (greatly!) in our carol singing by Liberty Gospel Choir.
Around 70 colleagues, clients, locals, referral agencies, and barristers all gathered together to get into the festive spirit, and also to raise money for a local charity, Women at the Well. This organisation runs a drop-in centre in Kings Cross dedicated to supporting women whose lives are affected by or at risk of being affected by prostitution.
If you were unable to make the evening, by all means please feel free to donate to the charity here. And do keep next year's date free – Wednesday 13 December 2017 – where the choir will be back and better than ever, and we'll be interviewing a High Court judge about life, faith and the law. Never too early to RSVP to Housing solicitor Ed Veale!