Opera singer drank caustic soda in pub after barmaid served him it as a 'prank'
An opera singer almost died after he was given toxic caustic soda to drink in a pub 'as a prank'.
Alan Costigan, 42, told how he started spitting up blood and suffered burns to his mouth, throat, gullet and stomach when he was given the substance – used to clean beer lines – to drink at the Echo Pub in Gravesend, Kent.
Alan, who had just given the landlady a singing lesson before he was given the 'drink' by a barmaid, was told by doctors that he should have died and was lucky that the caustic soda did not burn through his throat and oesophagus.
Now the singer has developed agoraphobia and fears he will never be able to perform again.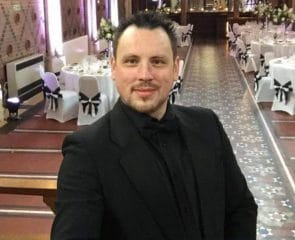 Alan, who used to sing in the pub and occasionally worked behind the bar, was offered to try a new 'red Ribena' by a barmaid and was told to 'drink it down in one'.
He said: "I was having a coffee, chatting to one of the regulars when the barmaid came up and said why didn't I try this red Ribena? She said I should down it on one. I drank about half as it was a large amount in a glass that you would serve vodka and coke in. As soon as I swallowed it I knew there was something radically wrong here. It immediately burnt my throat and I could hear her laughing behind the counter and said it was beer line cleaner. I said 'what have you given me that for?'
"I immediately got a large glass of water and drank a lot but it wasn't stopping the burning. I then started spitting up blood and I was really worried.
"When it went down it was like the hottest thing you could imagine in your throat. It was like I had been drinking molten lava. The pain was excruciating and like nothing I had ever felt before. I honestly thought it was all over for me. I thought she has given me something that was going to kill me. I couldn't breathe properly and I was coughing up a lot of blood. I was in shock and I thought I was going to die. Where I was coughing up blood it was burning as it came up."
Alan staggered home a few hundred yards away before he called 111.
He said: "They said it was really serious and that I needed to speak to a poison doctor. They told me not to come to the hospital as they would send an ambulance straight to me.
"I thought I am dead, it's over, I'm not going to make it to the hospital. When the paramedics arrived they said that it was very serious but I should try to remain as calm as possible. The paramedic said that if I was to be sick I may well bleed to death. She said the acid would come up and burn through my oesophagus and I would die. I was terrified. My life flashed before me and I thought I was never going to see my family again.
"The doctor said to me 'you should be dead. After what you had ingested you should have died today. The fact is that it is amazing that it did not burn through your throat'."
Girlfriend Eve said: "They took him straight into the major trauma unit. They said that Alan should have died as the poison could have burnt through his oesophagus. The doctors urged me to call the police as giving that poison could and should have killed him. When I saw him I couldn't believe it. I had never seen him look that terrible in my life. He looked grey and looked like he was at death's door. The doctors said he was so lucky to have survived."
Despite reporting the incident to the police the barmaid was not prosecuted after the CCTV in the bar was deleted. When he went into the pub after that he was told he was barred.
Alan said: "When I went to the police they took a statement from me and I heard that they had arrested the barmaid a week later. I was waiting about two months and I got a call from a PC saying that they went to get the CCTV but it was deleted six days after the incident and without that the sergeant had decided that they were dropping the case because of a lack of evidence. I said 'where does that leave me? She has just got away with this'. I felt shattered and let down with nobody to turn to. If you can't turn to the police who can you turn to?"
Alan has been unable to work since the incident in December 2017 and fears he will never be able to perform again.
Alan said: "I tried to do one gig since the incident and it was an absolute disaster. From a vocal point of view this has destroyed my career. I have gone from being able to sing on a stage in front of lots of people to not even being able to go out of the house. I'm a recluse, suffer from depression and have had panic attacks. I have a problem with my balance which means I can fall over at any point. The doctors don't know what damage has been done to my nervous system. I also frequently end up in A&E with breathing difficulties.
"I will never be the same again after what happened to me. This has ruined my life. Even if I was able to sing I don't know if I will ever be well enough to perform again."
Alan has instructed personal injury specialists from Hodge Jones & Allen to take legal action against the pub. The pub has admitted liability on the case.
Emma Hall, from Hodge Jones & Allen, who represents Alan, said: "My client's life has been devastated, all because a barmaid thought it would be funny to get him to drink a highly toxic and poisonous substance. He has been left with severe psychological injuries as well as the physical trauma he has suffered as a result of consuming the beer line cleaner. In addition he has been unable to work since the incident and does not know what the long term effects are to his health."