Grandfather Mowed Down in Hit and Run Wins Six Figure Settlement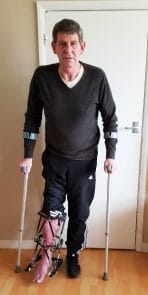 A Grandfather, who suffered a fractured skull and broken neck when a hit and run driver ploughed into him on Christmas Eve, has won a six figure payout.
John Clough, 57, was walking home when uninsured driver Elaine Annon drove into him at around 40mph, breaking his right leg, left ankle and pelvis in addition to his head and neck injuries.
The father of six has not walked for the past three years since the accident and has been told by doctors that he still faces a battle to save his right leg.
Ms Annon was sentenced to just 20 weeks in June 2016.
John, who has not worked as a delivery driver since the crash near his home in Clapham, South London, hoped the settlement will help him rebuild his life.
He said: "I was walking home so that I would be home in time for Christmas Day with my wife when the incident that destroyed my life happened. I had just left my friend when I was thrown in the air by a car travelling at speed. The next thing I knew I woke up in a hospital bed ten days later."
John was left for dead by the driver who tried to remove her number plate before fleeing the scene.
In total he has had seven operations and has spent months in hospital after contracting an infection in his leg. Despite efforts to rebuild his right leg, by building up the muscle below his knee from other parts of his body, it still has not healed. Doctors have warned John that he may still need to have his leg amputated.
He added: "I feel most sorry for my poor wife Bev as my mood swings have been terrible. I was quite active but I have been more like a recluse these past three years. Being inside drives me up the wall. This has ruined my life. We used to have a couple of holidays a year as our children have all grown up. We thought that this time was for us and then this happened."
John settled his claim with the Motor Insurer's Bureau – the Government body which awards compensation to victims of car crashes if the driver is uninsured.
He said: "I do get angry sometimes about what happened. If she wasn't driving I wouldn't be where I am. She was speeding and she wasn't supposed to be on the road. She was sentenced to 20 weeks and banned for two years. That was it for ruining my life. It's a joke, where is the justice in that?
"No words could describe what she has done to me and my family. I might still lose my leg if they can't get it to heal, but I have to be positive. I could have died in that crash and left my wife a widow and my kids fatherless. At least I'm here for a few more years yet."
Louise Jukes, lawyer at Hodge Jones & Allen specialsing in personal injury, who represents John said: "My client's life was devastated as a result of the horrific injuries he suffered as he walked home to spend Christmas with his family. He was left for dead and is lucky to be alive. Three years on and he is still fighting to save his leg. I hope the financial settlement he has received will help him rebuild his life."