Mum of Cystic Fibrosis Sufferer Takes Legal Action Against NHS England for Access to Life Extending Drug
The mother of a girl with cystic fibrosis is to take legal action against NHS England after she was denied a drug which would prolong her life.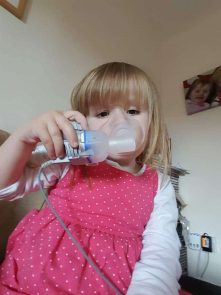 Katie Stafford, six, who also has learning difficulties, was diagnosed with the condition at 16 days old and has been in and out of hospital since with the life-shortening condition. The average life expectancy for cystic fibrosis sufferers in the UK is currently only 31.
The drug – which costs £104,000 per year for one patient – is only available to those in 'exceptional' circumstances. Despite her consultant recommending the drug Orkambi as the best medication for Katie NHS England have refused her funding, saying she is insufficiently exceptional to warrant it.
Now Katie's mum Sarah Burgwin has instructed lawyers to seek a judicial review of the decision.
Sarah said: "They are putting a price on the life of my daughter. It's shameful. What gives them the right to play God with my child's life?
"Katie is a helpless child who did not choose to have this condition. She did nothing to get it apart from to have the misfortune of being born with it. It is heart breaking to see Katie suffer when I know there is a drug out there that could help prevent her torment."
Experts believe using Orkambi could stop the illness – expected to kill half of current sufferers before they reach their forties – from becoming severe later in life.
Cystic fibrosis, which affects around 10,000 people in the UK, leads to sticky mucus building up in the lungs and digestive system. Lung infections are common, resulting in gradual loss of lung function.
Sarah added: "They say that you can only have this drug when you are really ill, but then you have lost so much of your lung capacity that it's too late as the damage is already done. They should be giving this to my daughter when she is healthy as a preventative measure so that she has a chance in life.
"I want her lungs to stay as they are. Once they get scarred there is no coming back and the only way is to have a lung transplant. Not providing Orkambi is a false economy as it could prevent so many children from having to go into hospital because of their cystic fibrosis. What is the point in delaying giving the drug to a child until they are already ill when they could massively improve their quality of life and extend if they gave it to them earlier?"
Lawyers at Hodge Jones & Allen, which represents Sarah, argue that as Katie has cystic fibrosis and learning difficulties she is 'exceptional' and she therefore should satisfy the criteria for funding. She is unable to be administered many of the alternative treatments properly because of her learning and behavioral difficulties, whereas Orkambi is much easier. They argue that the failure to take this into account was 'wholly irrational and unreasonable'.
Sarah said she hoped that a positive outcome to the judicial review would also allow other children to get access to the drug.
She said: "I hope that we can win this legal battle, not just for Katie, but also so this can be a gateway for other children also getting this drug to make their quality of life so much better.
"For me Katie is my hero as I'm not sure I could live through what she does. I wouldn't have let my mum put a face mask on me or administer drugs to me. She's so brave."
Orkambi was approved by the European Medicines Agency in November 2015, but NHS England has yet to reach a deal with the manufacturer Vertex so that people in the UK can access it.
Peter Todd, Partner at Hodge Jones & Allen, which represents Sarah, said: "Thousands of parents have been left in a desperate position of watching their children deteriorate with this life-shortening condition, while knowing that there is a drug out there that can help improve their health and extend their lives.
"Orkambi is already available to standard cystic fibrosis patients in Ireland, France, Germany, Italy, Greece, Sweden, Luxembourg, Denmark, Holland, Austria, Norway, USA, and Australia. However, it is not available to patients in the UK and is being refused even in such exceptional cases as this. We consider on this occasion the decision of NHS England was flawed, hence we are seeking judicial review."