Hodge Jones & Allen Adds More Strength To Its Medical Negligence Team With The Arrival Of New Partner Geoffrey Simpson-Scott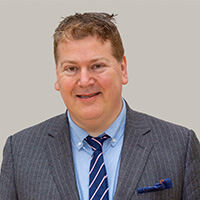 Geoffrey Simpson-Scott joined as a partner at Hodge Jones & Allen on Monday, 20 February, He is a highly experienced medical negligence litigator having specialised for over 20 years, dealing with complex and catastrophic injuries. He has also developed a particular focus on using alternative forms of ADR to bring about settlement.
Geoffrey will bring a wealth of experience from his previous roles as a clinical negligence solicitor to Hodge Jones & Allen and will add his great skills and expertise to a high-powered team dedicated to gaining answers and achieving settlement for their clients.
Geoffrey is known for authoring 'A Practical Guide to Clinical Negligence – 2nd Edition', a key publication for other solicitors in the sector. The third edition is due for publication in 2023.
The addition of Geoffrey will bring the medical negligence team size to 18, led by Agata Usewicz and includes partners; Nina Ali, Emma Wray, Dawn Treloar and Andrew Harrison. Geoffrey will join a team of recognised-leading practitioners working on some of the country's most prominent medical negligence cases and campaigns.
Prior to joining Hodge Jones & Allen, Geoffrey was the National Head of Clinical Negligence at Simpson Millar LLP.
Geoffrey commented: "Hodge Jones & Allen has a proud heritage of fighting injustice and making sure clients get the best possible care and closure after experiencing difficult and sometimes, life-changing circumstances. I am excited at the prospect of working with the team to continue to provide this top-tier service to our clients."
Agata Usewicz, Partner and Head of Medical Negligence at Hodge Jones & Allen, said: "We welcome the addition of Geoff to our team, he has an incredible track record of leadership, and successful case management. Hodge Jones & Allen has a leading voice in the fight for greater safety measures and better patient care across the country and securing justice for failed patients is key to this goal. We welcome Geoff to the team to bring his experiences and skills and are looking forward to him working with us to help those affected by negligent treatment and care"
Hodge Jones & Allen's Medical Negligence team has been named as one of the country's leading practices in the field by The Times Best Law Firms 2023, along with being ranked Band 2 in Chambers & Partners and Tier 2 in the Legal 500.