Hodge Jones & Allen Strengthens Dispute Resolution Team With New Partner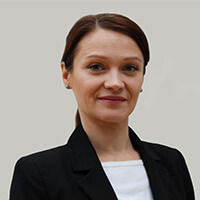 Karolina Kupczyk has been appointed as a Partner in Hodge Jones & Allen's Dispute Resolution team. An experienced litigator in managing large groups and individual matters, Karolina practices in commercial and financial litigation, as well as breach of contract and data protection and privacy. She has over 10 years of experience acting in substantial cases, obtaining significant settlements in matters involving intricate and complex issues.
In one of her most notable cases, Karolina acted in the largest consumer group action in the UK regarding product liability in the automotive industry. This case resulted in Karolina managing claims for over 70,000 claimants and then in a further, similar action, with circa 17,000 claimants.
Hodge Jones & Allen's Dispute Resolution team advises clients across a wide range of civil disputes, such as contract disputes, professional negligence, contentious probate, and property related disputes. Clients include individuals and businesses who seek the team's advice to resolve their legal issues and disputes.
Karolina commented: "Hodge Jones & Allen has a team of dedicated and thoughtful professionals, whom I am pleased to join. Hodge Jones & Allen is a client-focused firm and I look forward to building relationships with those clients and helping them to overcome the challenges they face. I am happy to be working with colleagues who are leaders in their field while continuing to grow my experience."
Chun Wong, Partner, and Head of Dispute Resolution at Hodge Jones & Allen commented: "Karolina is extremely passionate, and has years of experience in her field working on a large variety of cases. Karolina has a track record of representing clients' best interests in the face of injustice and, with her strong commercial awareness and industry knowledge, I do not doubt she will be a valuable addition to the Hodge Jones & Allen team."
Karolina joined Hodge Jones & Allen on the 9th of January after almost 5 years as a Partner at Slater & Gordon. Karolina was admitted as a Solicitor in England and Wales in 2012. Karolina completed a Legal Practice Course at the College of Law, holds a Graduate Diploma in Law from Kingston University, and a Master of Laws from Giedroyc University, Bialystok, Poland.