Graeme Hydari named Criminal Defence Legal Aid Lawyer of the Year 2017
Partner Graeme Hydari, was last night named as Criminal Defence Legal Aid Lawyer of the Year 2017, at the Legal Aid Practitioners Group annual awards evening.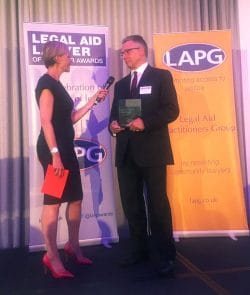 The awards which were presented by Baroness Doreen Lawrence, were hosted at etc.venues in Bishopsgate, London and recognise the achievements of solicitors, barristers, caseworkers and teams delivering legal aid.
Over his 33-year career Graeme has dedicated himself to not only helping autistic adults but in helping their families deal with the shock and aftermath of a prosecution. He also works tirelessly to educate those working in the criminal justice system on dealing with autistic defendants. One parent said "Finally I was talking to someone who treated my son like a human being and understood his challenges".
Graeme's nomination was also supported by Professor Simon Baron-Cohen, Director of Autism Research at Cambridge University, who said "Graeme is remarkable in how he educates the Courts to take the person's autism into account in sentencing and how to treat the person with autism with respect".
Commenting on his win at the awards, Graeme said: "I am obviously extremely pleased to have had my work recognised in this way, and would like to take the opportunity to say thank you. The Legal Aid Practitioners Group does fantastic work in raising awareness of both the importance of legal aid, and of the work that is being undertaken by so many legal aid practitioners."
Ends
For further information, please contact Lizzie Hannaway on 020 3567 1208 or at lizzie.hannaway@blacklettercommunications.co.uk.
Notes for Editors
Hodge Jones and Allen
Hodge Jones and Allen is one of the UK's most progressive law firms, renowned for doing things differently and fighting injustice. Its senior partner is Patrick Allen, recently awarded a lifetime achievement award by Solicitors Journal.
For 40 years' the firm has been at the centre of many of the UK's landmark legal cases that have changed the lives and rights of many people.
The firm's team of specialists have been operating across: Personal Injury, Medical Negligence, Industrial Disease, Civil Liberties, Criminal Defence, Court of Protection, Dispute Resolution, Employment, Family Law, Military Claims, Serious Fraud, Social Housing, Wills & Probate and Property Disputes.
In 2016, the firm launched Hearing their voices – a campaign to raise awareness and build conversations around the issues and the injustices we might all face.