Hodge Jones & Allen lawyer recognised in Magna Carta celebrations by Supreme Court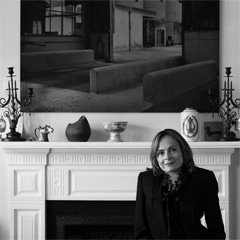 Portrait by Michael Waller-Bridge
Leading human rights lawyer, Jocelyn Cockburn, has been recognised for her role championing the rights of those in the armed forces and some of the most vulnerable in our society, in a unique photography exhibition at the Supreme Court.
Ms Cockburn, joint head of civil liberties at law firm Hodge Jones & Allen, is just one of twelve lawyers with a portrait in the exhibition of photography by Michael Waller-Bridge, commemorating the 800th anniversary of the sealing of Magna Carta.
As well as the photos, the exhibition, Magna Carta: Reflections, seeks to offer an insight into the enduring relevance of the Magna Carta in the working lives of those featured through an accompanying personal statement. Other leading lawyers photographed for the exhibition include Dominic Grieve QC, Lord Pannick QC and Baroness Scotland QC.
Ms Cockburn has a history of bringing landmark human rights cases against the state. She successfully fought to give British Troops protection under the Human Rights Act, winning the landmark 'Snatch Land Rover' case at the Supreme Court which related to allegations of inadequate and unsafe equipment. The case established that British troops can rely on the protection of the Human Rights Act even when they are deployed on active service abroad. She has also been representing Neville Lawrence, the father of murdered teenager Stephen Lawrence, for ten years, including in relation to the public enquiry into undercover policing.
In her personal statement, Ms Cockburn highlights the inviolable rights of citizens and the corresponding restrictions to his state power laid out in the Magna Carta, noting that this is the same fundamental protection enshrined in our Human Rights Act which is currently under threat.
She reflected on the universality of human rights which should apply to everyone, including the poor and marginalised, and on the importance of access to justice in the Magna Carta which provides that "to no-one will we sell, to no-one deny or delay right or justice." She raised serious concerns about the erosion of access to justice presided over by the current government, with cuts to legal aid and proposals to scrap the Human Rights Act and replace it with a British Bill of Rights.
Ms Cockburn says: "It's a great honour to be included in this exhibition alongside a number of eminent QC's and other legal professionals. The Supreme Court exhibition reminds us all that 800 years after the sealing of the Magna Carta, being able to hold the state to account and prevent the arbitrary exercising of power continues to be hugely important.
"Like others who seek to protect the most vulnerable in society, including groups who may not be 'popular' such as prisoners and foreign nationals, I am gravely concerned about this Government's plans to scrap the Human Rights Act and allow the continuing deterioration of legal aid. The Act is one of the few laws that allows individuals to hold the state to account but is often misrepresented by the press, with its importance as a force for good overlooked.
"I hope that as the commemorations continue, the Government considers the legacy of the Magna Carta and what it stands for, before making further attacks on UK citizens' access to justice."
Ends
All press enquiries to:
Kerry Jack, Black Letter Communications on 020 8736 0442 or 07525 756 599, email: kerry.jack@blackletterpr.co.uk
Louise Eckersley, Black Letter Communications on 07821 998495, email: louise.eckersley@blackletterpr.co.uk
Notes for Editors
Jocelyn Cockburn's accompanying personal statement
By granting inviolable rights to his subjects and corresponding restrictions to his own power, King John reluctantly created a legacy of justice which has stood the test of time. The Human Rights Act is an updated expression of these principles. We should not be surprised that it too has met with hostility.
Although everyone has human rights, it is usually only the poor and marginalised who struggle to assert them. Sometimes we do not want to hear these voices as they contain inconvenient truths about the unequal
society we live in.
Yet, clause 40 of Magna Carta dictates: "To no one will we sell, to no one deny or delay right or justice". This blueprint for a fair society was a distant hope in medieval England and we have still not achieved it to this
day.
Legal aid, which is the tool by which the poor can access justice, is, like the Human Rights Act, under serious threat. In 2013, the Government introduced proposals designed to shut out foreigners and prisoners from much of legal aid funding. It is worth noting that when Lord Justice Moses held that the denial of legal aid to foreigners could not be justified because all who are equally subject to the penalty of law must also be equally entitled to its protection, he had 800 years of principle behind him.
Prisoners, and sometimes foreigners, may be unpopular. But we deny no one. Least of all, I would say, the unpopular.
Hodge Jones & Allen
Hodge Jones and Allen was founded in 1977 in Camden and has over 220 staff based in Euston NW1. The firm's team of specialists includes – Personal Injury, Medical Negligence, Industrial Diseases, Civil Liberties, Criminal Defence, Court of Protection, Dispute Resolution, Property Disputes, Employment, Family Law, Wills & Probate, Military Claims, Serious Fraud and Social Housing.
Jocelyn Cockburn is a leading civil liberties lawyer with particular expertise in human rights challenges requiring the state to protect the vulnerable in our society. She has a wealth of experience representing bereaved families at inquests and civil claims, many of which have arisen out of deaths in custody.
She has many high profile clients including Neville Lawrence, who she is representing at the public enquiry into undercover policing. She also brought two landmark cases establishing human rights protection for soldiers serving abroad.