Former soldier's family wins apology from health chiefs after failings before he committed suicide
The family of a former soldier who committed suicide after a host of missed opportunities to save him have won a payout from health chiefs.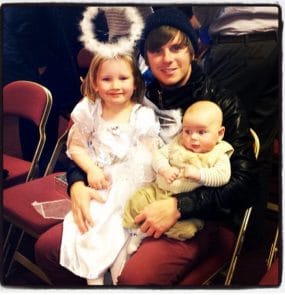 Father-of-three Aidan Knight, 29, who served in Iraq with the elite 2 Para, hung himself in a park after trying to get help from mental health professionals for months.
The Sussex Partnership NHS Foundation Trust also issued a letter of apology to his family for the 'failings in the care he received' in the two months before his death.
Aidan's three children have received a six figure financial settlement to be split between the three of them.
Aidan's mother Angie Aleksejuk, 55, from Stafford, said: "I wish that just one person had thought differently in the period leading up to Aidan's death as if they had he may still be here.
"He ticked all the boxes of being at risk – a former serviceman, under 30, he had lost his brother, lived alone and he even presented himself to A&E – but he slipped through the net. What happened has devastated our family. This was never about getting compensation but getting the Trust to apologise for their failings in Aidan's care."
Aidan joined the army aged only 17 and within two years was on a six-month tour of duty in Iraq.
He left after five years, telling his mother he had seen "too much death". He was also shattered by the tragic loss of his brother George in 2012.
Aidan died a "tortured soul" in April 2015 – the day before what would have been George's birthday.
He hanged himself from a tree in parkland, in Crawley, West Sussex, after phoning his mum to say he was "going to his brother's party".
A coroner recorded a suicide verdict and a serious-incident mental health review admitted more should have been done for Aidan.
Angie said: "I think Aidan was a tortured soul after he came back but he bottled it all in and never spoke of what he did out there.
"He'd just say he had seen terrible things. He would have nightmares and cry out in his sleep."
In the six months from 2014-2015 Aidan took an overdose of Diazepam – the first of four suicide bids.
Despite assessments by police and NHS psychiatrists recording that he had symptoms of PTSD, he was not considered high-risk enough to be admitted to hospital. Desperate for help, he went to A&E at East Surrey Hospital on March 5, 2015.
A psychiatric nurse diagnosed PTSD symptoms and five days later the community mental health team assessed him. It took until March 26 to confirm his referral to a mental health practitioner.
During that time his GP prescribed him anti-depressants for his erratic behaviour. But his practitioner was on holiday until April 8 and he was not reassigned to another case worker. In the early hours of April 8 Aidan's body was found at Tilgate Park in Crawley, West Sussex.
Angie added: "There were a number of missed opportunities to save him and it just feels like nobody listened to him. I'm realistic enough to realise that even if people had listened to him he may still have done what he did, but we will never know.
"I wouldn't want anybody to go through what we have as living through this has been like torture and has scarred us all."
Alice Hardy, civil liberties partner at Hodge Jones & Allen, which represented Aidan's family, said: "Aidan was deeply let down by the mental health professionals who had numerous opportunities to take actions that could have saved his life.
"Aidan's death has devastated his family and left three children without the father they loved. We appreciate the apology from the Trust, but it is crucial that they learn from this avoidable tragedy to make sure nobody else is failed like this ever again."