Attacked Sisters Launch Appeal Against High Court Ruling
Three sisters who unsuccessfully sued a hotel after they were attacked in their room have launched an appeal against the judgment.
Khaloud, Fatima and Ohoud al Najjar suffered horrific injuries when Philip Spence got into their adjoining hotel rooms and bludgeoned them with a claw hammer.
But the High Court ruled that the Cumberland Hotel – now known as Hard Rock Hotel – was not at fault for the injuries, even though they had a duty of care to protect their guests.
The sisters, from Abu Dhabi in the UAE, have now asked for permission to appeal the judgement.
Spence, who was convicted of three counts of attempted murder and sentenced to life in prison, walked into the hotel off the street in April 2014 and managed to reach the seventh floor where he entered the sisters' rooms through an open door.
The attack left Ohoud with five per cent brain capacity and she will need care for the rest of her life, while Khaloud has undergone 20 operations to rebuild her head and face. Fatima is not able to taste or smell and has problems with her memory.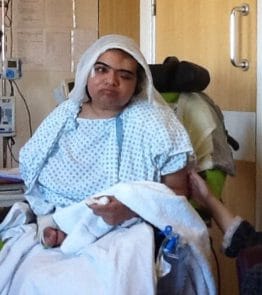 In a statement, Khaloud and Fatima said: "We were stunned and sickened when we heard that the judge had ruled that the hotel was not liable for the attack inflicted on us, despite the judge saying that they owed us a duty of care. The judgment seemed truly incredible and a complete travesty of justice. That is why we have been left with no option but to appeal.
"The fact is that our lives were altered forever on the night that Spence got into our room and attacked us. We effectively lost our sister that night and almost died ourselves. All of this while we were in the privacy of our own rooms where we felt we would be safe. We hope the Court of Appeal will grant us permission so that we can finally get justice."
The sisters took legal action in May over the hotel's 'haphazard' security but the owners denied liability.
Mr Justice Dingemans ruled that the hotel was not liable for the attack.
The sisters' legal team from Hodge Jones & Allen have made an application to the Court of Appeal for permission to appeal.
Riffat Yaqub, Partner at Hodge Jones & Allen, who represents the family, said: "To say that the hotel was responsible for protecting its guests from harm, yet rule that they were not liable was, in our view, completely erroneous. After seeking guidance from counsel we have decided to launch this appeal to get the justice that the sisters so rightly desire."
The hotel has rebranded to become the Hard Rock Hotel since the attack.