Widow receives compensation from Wiltshire County Council following asbestos exposure that led to artist and schoolteacher's untimely death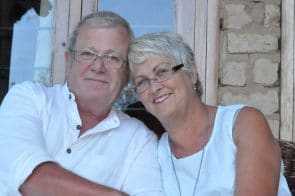 The widow of Terry McLaughlin, a retired schoolteacher and artist who died in 2018, aged 68, has received a substantial compensation payment from Wiltshire County Council following her husband's premature death from asbestos-related malignant mesothelioma.
Jean McLaughlin now feels it is important to bring this case to a wider audience so that anyone similarly affected can be encouraged to seek assistance.
Terry McLaughlin, worked for Wiltshire County Council in Swindon, from 1979 to 1984 as an art teacher at Headlands Secondary School, and between 1984 and 1993 as a lecturer and section head of art and design at New College. He was a talented teacher, artist and in particular a ceramicist who believed his employers would protect him from dangers at work, such as asbestos exposure.  In spite of legislation introduced in 1969 to ensure employees were protected against inhalation of asbestos dust, Terry's former employers completely failed to ensure his protection.
Over the course of Terry's employment in Swindon, it is clear the Council exposed him to asbestos dust in his workplace from the kilns he refurbished and the kiln gloves he used, as well as the fire blankets, ceiling tiles and display boards present around him in his everyday working life.  Terry simply went to work to do the job he loved and he should not have been exposed to these asbestos materials.
Medical evidence revealed that Terry died prematurely after developing mesothelioma because of his long term exposure to asbestos dust. It is likely that he would have lived for another 20 years had he not developed this aggressive and malignant cancer. His tragic death, just six weeks after diagnosis, occurred as he was pursuing his claim against his employers. His widow Jean has successfully continued the legal claim gaining the compensation she is entitled to.
Jean worked with social justice law firm, Hodge Jones & Allen (HJA), to fight Terry's case. HJA has a specialist team that deals exclusively with asbestos and mesothelioma claims, ensuring they are handled with the utmost skill and care.
In addition to compensation for Jean, HJA obtained funds for local charity, Pilgrims Hospices in East Kent, which cared for Terry in his final days.
Lorna Webster, a Partner and Asbestos and Mesothelioma specialist at HJA who represented Jean, said: "To the outside world, Terry's case is quite unusual for several reasons. Firstly, Terry worked as a schoolteacher, not an occupation you immediately think about when you consider asbestos exposure. Secondly, the exposure that Terry had to asbestos happened between 1979 and 1993 – much later than many cases, and a full ten years after the first set of Asbestos Regulations, which came out in 1969. The disregard given to Terry's health by the Council is shocking.
"Having spoken with Jean, she feels justice has now been done and she is particularly pleased that the Hospice that cared for Terry has received a sum that will help them to help more families like her own. However, despite this, nothing can bring her husband back and allow them to live their lost years together.
"Sadly we are seeing more and more cases like Terry's, where the contact with asbestos happened in an occupation not immediately linked to asbestos exposure. Terry lost 20 years of his life and his planned retirement with Jean was stolen from them both – it is only right that justice is obtained for Jean and in memory of Terry.
"We encourage anyone who is suffering from undiagnosed breathing-related symptoms and who believes they may have been exposed to asbestos in the past, even if their job was not one immediately associated with asbestos exposure, to go to their doctor, or organise an online appointment, as soon as possible. This is even more imperative following the COVID-19 pandemic, where people with underlying health conditions are likely to be more vulnerable to the virus."
For further information, please contact:
Yellow Jersey PR:
Alex Crean
T: 0808 239 3996 | 0808 239 5975
Emma Becirovic
T: 0808 239 8378 | 0808 239 5975