Family of former Maidstone painter and decorator appeal for witnesses in Mesothelioma case
David John Fermor's family are looking for past colleagues to get in touch after his death from mesothelioma – a type of cancer linked to asbestos exposure
David John Fermor from Maidstone, Kent, sadly passed away aged 77 from Mesothelioma on January 15, 2022, following a sharp decline in health, related to his exposure to asbestos in his career.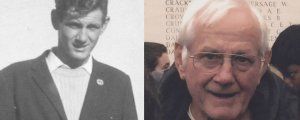 David was employed by R. Corben Ltd. in Maidstone, a place known to many as "Corben's", located at 6 Tonbridge Road in Maidstone from 1960 to 1969. He completed an apprenticeship with the company and then continued working as a qualified painter and decorator. During his employment, he was sent by Corben's to work at various sites across Kent and the wider UK. These included the Aylesford Paper Mill site, where he worked between 1960-62; Brookgate Industries – a company that made calendar paper, where there was exposed asbestos on the walls. Mr. Former was later exposed to asbestos dust from asbestos coated steam pipes at Kimberley Clark, another site that he was sent to by R. Corben Ltd.
After completing his apprenticeship and continuing to work for Corben's, David was sent to work on an array of jobs for the local council. This included painting council-owned housing and cleaning asbestos gutters on houses in the Detling area.
David's illness progressed very quickly; he told his family that it was during his employment at Corben's that he was exposed to asbestos fibres. His family are appealing for any former colleagues who are willing to comment on encountering asbestos dust whilst working at R. Corben's, or at any of the sites across the UK and Kent where David was sent to carry out jobs, to come forward and aid in bringing this issue into the limelight.
David's family have instructed asbestos disease specialists, Hodge Jones & Allen, to help in their search for answers surrounding Mr Former's case.
Isobel Lovett, Partner at Hodge Jones & Allen said: "Mesothelioma is a terrible disease and sadly David passed away before he could provide a great deal of information about his exposure to the deadly cancer-causing asbestos fibres. We would like to hear from anyone who worked at any of the same workplaces as David. It could help his family achieve justice for the suffering he endured through no fault of his own. Unfortunately, historic asbestos exposure is still affecting many people like David, who worked in a job they loved and yet find themselves affected by serious ill-health due to simply doing their job. In cases like this, witnesses are crucial in the search for justice. We hope that someone reading this will recall David and will come forward to help."
If you or a family member are able to assist, please get in touch with Isobel Lovett, at Hodges Jones & Allen on 0207 874 8502 or email ilovett@hja.net