Reema Chugh, Partner at Hodge Jones & Allen nominated for Asian Legal Award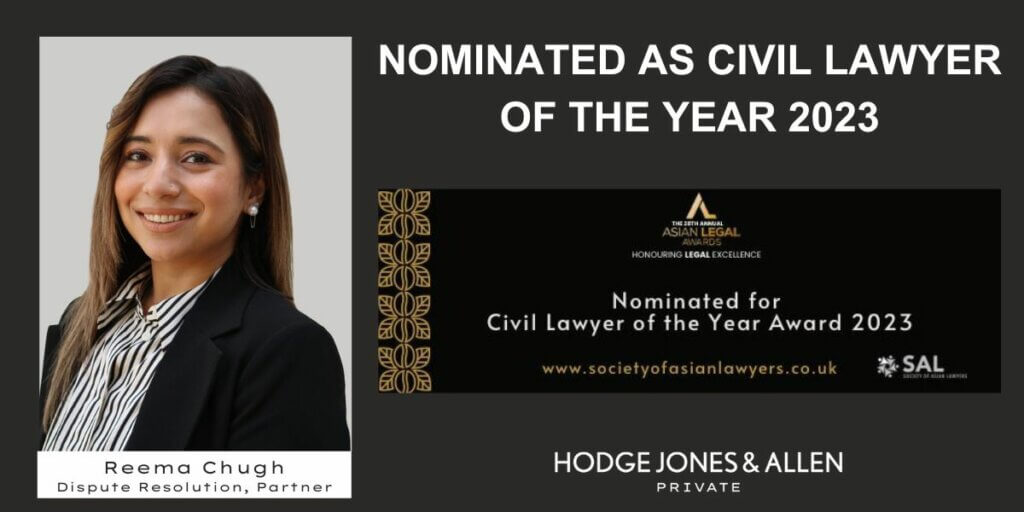 Hodge Jones & Allen are delighted to announce that Reema Chugh, Dispute Resolution Solicitor has been nominated for Civil Lawyer of the Year Award 2023.
The awards organised by The Society of Asian Lawyers are an annual occasion and this year, the Awards Ceremony will be taking place on Saturday, 25th November in London. They are described as "the premier legal Awards ceremony championing and celebrating legal excellence in the Asian community."
At this year's ceremony there are five awards which recognise and celebrate key achievements and excellence by Asian Lawyers. Commenting on the news, Reema said "I am delighted to be nominated for the Civil Lawyer of the Year Award. The Society of Asian Lawyers is a great organisation to be part of and it is an honour for me to be recognised."
The Society of Asian Lawyers prime aim is to promote and develop the legal profession within the Asian community in the UK.
Reema Chugh is an experienced Property and Commercial Disputes lawyer acting for national and international clients to resolve legal disputes. As an accredited mediator she believes in supporting her clients to resolve disputes without escalating the issue to court.