Hodge Jones & Allen Community Support – local and nationwide
Hodge Jones & Allen have through four decades actively supported local and national charities and initiatives. Here are details of some of the activities we have been involved with so far.
Grenfell Tower & Chalcots Estate
Hodge Jones & Allen has represented people affected by disasters in the UK over the last 40 years. We are proud that we have been able to help people whose lives have been devastated by avoidable disasters. We know how to use the power of the law. We have helped many hundreds of people affected by the Kings Cross Fire (1987), the Marchioness Disaster (1989), Kerrin Point (1997) and New Cross Fire (2nd Inquest (2004)).
Our Civil Liberties & Human Rights solicitors in conjunction with the Housing team and Personal Injury team act for over forty core participants at the Grenfell Tower Inquiry into the Grenfell Tower fire.  Daniel Fitzpatrick, a Deputy Partner in the Housing team acts as a Recognised Legal Representative to the Inquiry.
If you have suffered a personal injury, bereavement or loss of your home we can help you. We provide free telephone advice to Grenfell Tower residents, Chalcots Estate residents and other residents in similar properties. Advice provided regardless of your financial circumstances. Our experts can be contacted on 0808 271 9413.
---
Carols in the Bar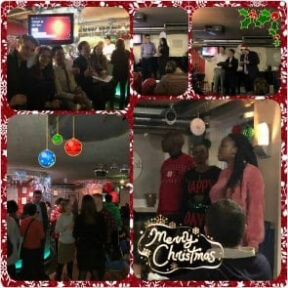 About 70 staff and guests gathered together on Tuesday 12 December 2017 for our annual Carols in the Bar, now in its 7th year. Led by Liberty Gospel Choir, we enjoyed an evening of carol signing and mulled wine as a fitting way to start the festive season. High Court judge Mrs Justice Bobbie Cheema-Grubb QC was our special guest, and she shared about her legal career as well as her Christian faith.
Each year a different charity is profiled at Carols in the Bar, and so we heard inspiring stories from staff and clients of the charity Big Kids Foundation, which supports young people in Lambeth at risk of gang violence. Their Development Director wrote afterwards: "On behalf of everyone at BIGKID, I wanted to say a massive thank you for having us at your carol service last night. It was great to meet the Hodge Jones & Allen team, and we all really enjoyed ourselves, especially the kids – who surprised us by really belting out some of the carols!"
---
Inquest Quiz
On 1st December 2017 the Civil Liberties & Human Rights team held the 9th annual INQUEST Festive Quiz which raised almost £7,000 for INQUEST a charity which helps bereaved families. Garden Court Chambers were victorious again having specifically put together a team of quiz buffs.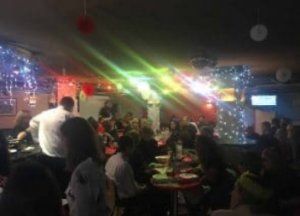 Things could however have been so very different if a member of the HJA/ Doughty Street team had been less forceful in her incorrect assertion that helium was the first element in the periodic table. They finished a mere ½ a point behind the (some might argue fairly smug) victors. The winners of the wooden spoon this year were Doughty Street Chambers and DPG won best team name with 'They aren't wrong answers it's Fake News'. Thanks must go to all those who helped out with the event especially Matt Cuell who was our quizmaster and Jack Williams and Phil Unciano who created a very unique live music round.
---
Everest of East London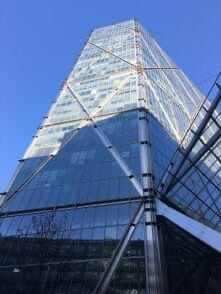 After all the hours of hardcore "Rocky" style training, running up to Kandinsky whilst listening to Eye of the Tiger and punching the air, the Asbestos team were ready and raring to ascend the dizzying heights of Broadgate Tower for the good folk at the British Lung Foundation. It was a perfect morning for a stair climb with clear blue skies for miles around. It was also a horrific morning to be wearing shorts in brisk late November.
We joined other enthusiastic BLF climbers, some worked for the charity but most had stepped up (pun) for their loved ones. None of us had done anything like this before.
Following a rigorous warm up, we were lead to the base of the skyscraper's emergency staircase to the starting line. The weeks of "preparation" had all been building up (pun) to this moment.
And we were off, one after another, to scale the Everest of East London! Some went at a steady pace, others took two steps at a time and the most hardy participants went up with added weight strapped to their backs and ankles.
The first 10 floors were tough, floors 11-25 were a blur, and the final 10 flights were an explosion of pure grit, sweat and determination.
We reached the top to rapturous applause and the smiley/exhausted faces of those who had just finished.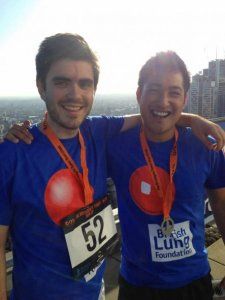 With an incredible combined time of 15 mins 38 secs (Joe: 7mins 27 secs + Phil: 8 mins 11 secs) we completely smashed our prediction. Fantastic news for our general fitness levels, but bad news for all the people who entered the sweepstake whom we grossly mislead thinking we would do it 30-40 mins. Many congratulations to Jen Siddorn in Crime for guessing the quickest time at 17mins.
The climb was worth it for the spectacular views across the city, a congratulatory medal, a glass of ice cold bubbly and few packets of Hula Hoops! #winning
With the generous promise from the Boss to match every penny, our grand total raised was £681.20.
Thank you so much for everyone's kind donations and well wishes. All the money goes direct to the British Lung Foundation who are doing incredible things to fight conditions such as mesothelioma, lung cancer, and COPD.
Your support helps to maintain this vital resource that is a life line to our clients.
---
St. John's School and College
Nina Ali, a partner in the Medical Negligence team has attended St. John's School and College's graduation ceremony on 18th July 2017.
St. John's School and College support, educate and care for young people, who have complex learning disabilities and special needs. They currently have over 120 learners with autistic spectrum conditions, Downs Syndrome, Asperger's Syndrome, rare/multiple diagnoses and severe communication difficulties.
We were delighted to sponsor such an important event in children' lives. Our sponsorship ensured that each child received a Presentation Box with photographic mementos and gifts.
Hodge Jones & Allen is particularly committed to acting for and representing the rights of children and adults with disabilities to ensure that their rights are fully and equally protected, and that they are provided with the same standard of access to justice, education, employment and healthcare as those without disabilities.
---
Headway Danceathon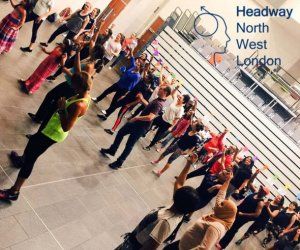 We were proud to support Headway North West London (HNWL) fundraising event Danceathon, which took place on Saturday 15th July 2017. The aim of the event was to raise much needed funds for children and families affected by brain injury. The event was very successful and was fully enjoyed by all children who couldn't stop dancing!
---
Hodge Jones & Allen raises £7,776 for Wheelpower & the UCLH Cancer Fund.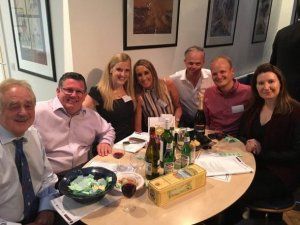 The Personal Injury Department's charity night went ahead on 22nd June 2017 and proved to be a great success. This year we were raising money for local charities to coincide with our 40th anniversary celebrations. We chose Wheelpower, the national charity for wheelchair sport and the UCLH Cancer Fund to help the Cancer Centre offer patients a range of services to address the emotional, psychological and financial impact that cancer can have on a patient and their carers.
The event was sponsored once again by 42 Bedford Row. The evening kicked off at 6pm with a champagne reception, kindly sponsored by Premex, followed by the quiz, an auction and then a raffle. The event was very well attended with prizes including Wimbledon Tickets, a spectator area at Henley Regatta for 15+ people and a 6 month supply of fancy socks all up for grabs. People gave generously and a brilliant night was had by all.
---
Edinburgh night ride – sleepless in the saddle II
Peter Todd, a partner in personal injury team took a part in a fantastic one day charity bike event, cycling 50 miles around Edinburgh. The route led alongside the coast, the most beautiful and iconic sights such as Holyrood Palace, Scottish Parliament Buildings, Edinburgh Castle, The Forth Bridges and the biggest elevation of the route, over Arthur's seat.
Peter raised funds for Narcolepsy UK, a charity which provides support, relief and aid to those persons suffering from narcolepsy. Peter has raised over £3,000 including the gift aid.
---
Housing team ran Windsor half a marathon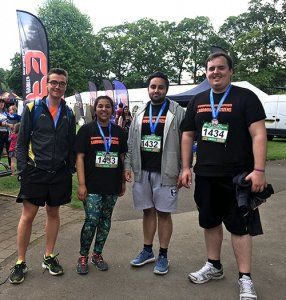 Ed Veale, Arjun Jethwa, Jack Williams, Amirah Chowdhury and Karisma Ramsaran from the Housing team ran the Royal Windsor half marathon (13.1 miles) on 21st May 2017.
They chose to sponsor Cardboard Citizens, a charity that supports and combats those affected with homelessness and those who are threatened with it. They have raised £761.
---
Legal Walk 2017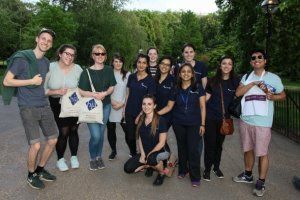 On the evening of Monday 22nd May 2017 a group of 16 HJA staff took part in the annual London Legal Walk in aid of the London Legal Support Trust. The Trust helps to raise money to fund CABs, Law Centres and other free advice agencies in London and the South East. The need for these charities has grown over the past few years while resources for their work have diminished. That makes the funds raised by the London Legal Walk more important than ever.
The team managed to raise a fantastic total of £1,207.50.
---
Medical Negligence team conquered Tough Mudder!
On the 29th April 2017 Nina, Jason, Robert, April ran 5 miles and tackled 13 obstacles on the muddy Henley on Thames fields and took on the Tough Mudder.
April said: "It is safe to say that we were very muddy, cold and wet by this point but pumped at completing the course as a team (and with only minor cuts and bruises)!" 
They have raised approximately £1,500. All proceeds were donated to Millie Mittoo Children's Projects charity that provides support and education to disadvantaged girls in Pakistan.
---
Black Lives Matters UK
HJA hosted a Black Lives Matter UK (BLM UK) event on 23 March 2017 at Draught Orders Bar in order to support Black Lives Matter UK, who are a coalition of activists who campaign to raise awareness of the issues affecting black communities in the UK.
We invited lawyers, activists and the wider community to attend the event. We raised over £700 for Black Lives Matter UK.
As well as films there was live poetry from Black Lives Matter UK activists and dinner cooked by a Black Lives Matter UK activist.
Raj Chada led a lively discussion amongst the audience and activists, which centred on the respective roles of lawyers and activists in the fight for justice and equality.
---
AvMA Fundraiser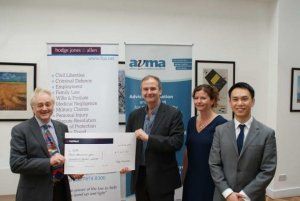 On Wednesday 22 March 2017, the Medical Negligence Department hosted its first charity fundraising event for Action Against Medical Accidents (AvMA).
The event comprised of a quiz, raffle and auction; and was hosted by the effervescent Katie Gollop QC. Over 100 guests attended. Great fun was had by all and the event generated £7,413.
---
Once Upon a Time in a Firm not too Far Away…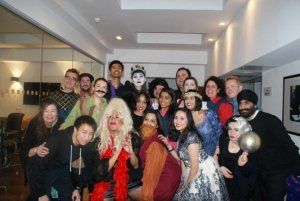 Following amazing success of The importance of Being Earnest, HJA staff and friends performed again.
The HJA pantomime 'Snow White Like You Have Never Seen Before' was written by Daniel Fitzpatrick and directed by Nina Ali with the mission to raise funds for Millie Mittoo Children's Projects.
2-shows-only pantomime was fully sold out again!
---
Inquest Festive Quiz 2016
HJA held its popular annual festive quiz in aid of INQUEST on Thursday 1st December. The event was well attended and generously sponsored by Matrix Chambers, Doughty Chambers and Garden Court Chambers.
The total amount raised was over £7,600.
---
Headway grateful to receive unclaimed money from HJA
Headway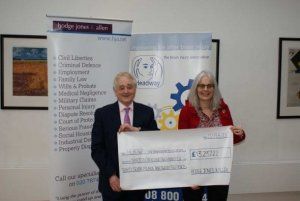 has thanked HJA after it chose to donate £13,237 of unclaimed money to the charity.
The firm, which has been on Headway's Solicitor's Directory for more than eight years, decided to allocate the funds to the charity having seen the great work it does to support brain injury survivors.
Unclaimed client account balances are sums of money which lie dormant in the client account of many firms of solicitors, often untouched for years.
It may be that the rightful owner cannot be traced, or perhaps they will not provide instructions on how the funds should be dealt with.
Patrick Allen, Senior Partner, said: "Supporting Headway is something my firm has committed to for over 20 years, and donating monies unclaimed by our clients is one way in which we provide funds for their frontline services.
"At the end of each year, after liaising with the Solicitors Regulation Authority who oversee the process, we send unclaimed monies through to Headway, who hold the necessary indemnity cover. It is important to Hodge Jones & Allen to continue to play its part in supporting those affected by brain injury."
Rachel Broughton, Fundraising Manager at Headway, said: "We are very grateful to Hodge Jones & Allen for choosing Headway for unclaimed funds. The money will help us provide support to those affected by the often devastating consequences of brain injury."
---
Hodge Jones & Allen raises £8,821 for CBIT
The Personal Injury Department's charity night went ahead on 9th June and proved to be a great success. This year we were raising money for the Child Brain Injury Trust. It is the only charity to provide long term practical support for the whole family following childhood acquired brain injury. It is estimated that for every child with a brain injury, an additional 9 individuals will need support.
The event was sponsored once again by 42 Bedford Row. The evening kicked off at 6pm with a champagne reception followed by the quiz, an auction and then a raffle. The auction prizes included flights to New York for two, Bestival tickets, jewellery, a Thames dinner cruise for two, food hampers, a bungee jump experience and countless bottles of champagne.
---
Muffins for Meso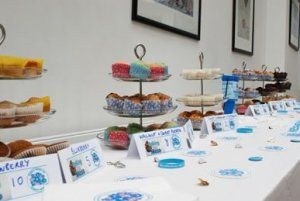 To help raise money for Mesothelioma UK we joined in their first "Muffins for Meso in May". We declared 20 May our Meso Muffin Day and armed with a whole range of differing baking ideas set about producing a display table groaning under the weight of muffins.
Mesothelioma UK is a charity that supports people who suffer cancer as a consequence of being exposed to asbestos. It is a national resource centre which provides specialist mesothelioma information, support & improved care and treatment. They rely totally on donations for financial support. They have put in place Mesothelioma Specialist Nurses into clinical posts in the UK and currently support 12 across the country. The first ever London Mesothelioma Clinical Nurse Specialist is currently being appointed.
Mesothelioma kills over 2,500 people a year in the UK (more than on the roads) and the numbers are still increasing each year. In total the bake sale raised £100.50.
---
London Legal Walk
Back in May 2016, a team of 3 HJA staff took part in the 12th London Legal Walk. The walk is a 10km "after work" walk around central London, to raise funds for legal advice centres in and around London that help the poorest and most vulnerable people in the region.
The team, which consisted of Patricia McCluskey, Sebastian Del Monte and Sacha Jooma raised a fantastic total of £562.50!
---
The Importance of Being Earnest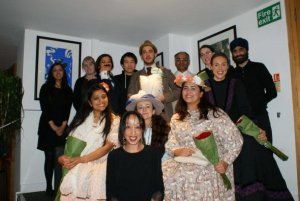 In February 2016, we hosted a production of Oscar Wilde's 'The Importance of Being Earnest' over two nights, to raise funds for children's charity Millie Mittoo Children's Project. The cast consisted almost entirely of Hodge Jones & Allen staff and was directed by our very own Nina Ali.
The play raised more than £2000 over two nights and received rave reviews. We look forward to the next production.