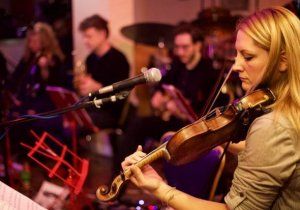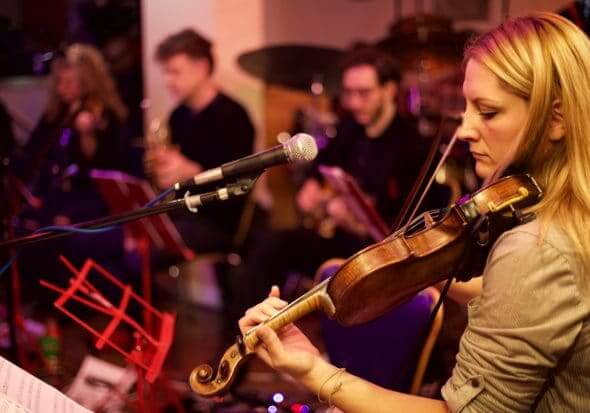 Club Inégales is a unique music venue dedicated to new music of all kinds and improvisation. The 'resident band' (Notes Inégales) perform with diverse guests at concerts in HJA's licensed basement bar 'Draught Orders' which happens to create the atmosphere of a real jazz club like the Village Vanguard in New York.
Peter Wiegold (keyboard and artistic director) and Martin Butler (piano) are the driving forces behind Club Inégales.
Peter Wiegold writes: "Club Inégales is a place of surprises, do not expect the conventional! It's not a jazz club, not a new music venue, not a comedy club, not a world music venue. But expect all of these to appear, as we search for the best of real new, spontaneous performance.
Every evening has three parts:
First resident band Notes Inégales, under my direction, warm us up. Then the guests are invited to perform their own work. Then, in part 3, something unique. Maybe spontaneously created in the afternoon – with improv in the evening.
We never know what's going to happen – we take ideas from the audience, folk singers might go into avant-garde textures, free improvisers go bluesy. Writers start improvising with words and characters.
We do know we always get the highest quality guests, the most authentic work – whether it is jazz, Korean taegŭm, Maori shaman, performance poet or the exquisite cello of Olly Coates playing Xenakis.
Our next guests include world class jazz musicians in the London Jazz Festival late November beginning with Lionel Loueke on the 13th – perhaps the best jazz guitarist in the world, a member of Herbie Hancock's band – bringing in African influences."
HJA is delighted to host the group for their rehearsals and performances and also provides financial support. Concerts take place about 12 times a year in three separate seasons. They are usually on Thursday evenings starting at 8pm. Food and a licensed bar are available throughout the evening.
The regular band members are:
Max Baillie – violin/viola
Joel Bell – electric guitar
Hyelim Kim – Korean Flute
Rowland Sutherland – flutes
Christian Forshaw – saxes
Torbjorn Hultmark – trumpet/live electronics
Jon Banks – accordion/santori
Martin Butler – piano
Ben Markland – bass/electric bass
Simon Limbrick – drums/percussion
Peter Wiegold – keyboard/director
With HJA's help and support , Club Inégales now receives an annual grant from the Arts Council in recognition of their unique and innovative programme.
How did this happen? Patrick Allen, senior partner writes: I am a fan of nearly every kind of music,  from classical to opera,  jazz and rock. My passion at university was the Grateful Dead. Now it is mainly Mozart, Chopin and Bill Evans. I started learning the piano from scratch about 12 years ago and recently passed my Grade 8 exam. Tackling some Bach or Debussy is a great way to take your mind off legal work.
"I have known Martin Butler for many years and I started to attend Notes Inégales concerts. I invited them to play in the HJA bar for a charity concert. They loved the intimate and comfortable space and its acoustics. We then came up with the idea that the club should have a permanent home in our bar for their concerts.
"We have recently acquired a Yamaha grand piano for use at the concerts and this is now available for weekly piano lessons for HJA staff provided by the amazing Stefania Passamonte, a brilliant teacher and concert pianist."
Peter Wiegold writes: "Every musician dreams of having a club. When Patrick Allen invited us to be in residence in the Draught Orders bar we could hardly believe it. After five years I can say I think this is one of the best and most generous philanthropic support programmes for musicians in the country, supporting the nurturing of the best of new work. The bar has a great cosy warm atmosphere, people relax on settees and eat food – but they also really listen. We love the place, and we love that we can call it home."
The Club's forthcoming concerts please visit www.clubinegales.com.