Personal Injury Lawyer of The Month: Usheena Patel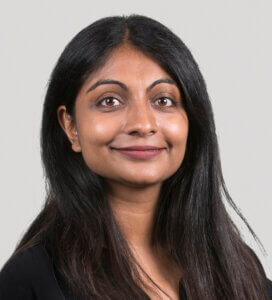 Usheena Patel is an Associate at Hodge Jones and Allen. Usheena joined the team in 2014 and is regularly instructed to act on behalf of clients in respect of high value and complex liability cases. Usheena frequently receives stellar feedback from her clients for the results she achieves in connection to their cases. She has also been awarded the outstanding fee earner performance award during her time at Hodge Jones and Allen.
Which areas of the law do you specialise in?
I specialise in a broad range of personal injury cases to include employers' liability, public liability, road traffic accident and cosmetic negligence cases. I have significant experience acting on behalf of clients who have suffered psychiatric injuries.
What do you enjoy about your work?
A very potent side effect of the nature of the work I do is gratitude and perspective. A number of my clients possess an incredible amount of resilience to get through a really tough time or period in their lives following an accident and where some sadly deal with permanent difficulties due to serious injuries. Having been diagnosed with severe endometriosis, I understand and can empathise with the negative impact physical and psychological pain can have on an individual's life and the time lost that can never be recovered from such pain or be measured financially in real terms.
Being able to support my clients is rewarding and achieving the best possible outcome on their behalf makes my heart glow.
I also enjoy the blend of knowledge required to act in personal injury claims and to be able to draw upon legal, medical, financial and analytical skills to craft the finest possible case plan and result for my clients.
What has been the highlight of your career so far?
I represented a client in a public liability matter who suffered physical injuries and the onset of a miscarriage immediately after the accident. The Defendant defended the case to trial and Judge found in favour of our client and awarded her damages accordingly. This was a heart-warming outcome after a long drawn litigated case where my client was required to give evidence in relation to a sensitive matter.
What's your favourite thing about working at Hodge Jones & Allen?
Banter with my colleagues and the in-house bar at the office. The energy of a happy team will filter through in the results achieved for our clients.
Can you tell us about the most interesting case you've worked on recently?
I am representing clients who were involved in an accident after a lorry drove into their home whilst they were watching the news on the TV at home, late at night, causing significant structural damage and psychiatric injuries.
Lastly, when you're not at work, what do you like to get up to?
In no particular order of importance:-
Netflix (true crime, mysteries and horror) and candles (Beauty Pie candles)
Wine (I recommend Okanagan Valley region wine)
Collecting stationery (Hobonichi Techo planner for organisation)
Formula 1 (Ferrari of course, hoping for a renaissance)
This concludes my recommendations!