Personal Injury Lawyer of The Month: Emma Hall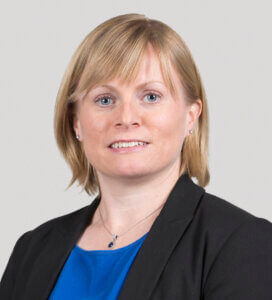 Emma Hall is an Associate in our Personal Injury team. Emma joined the team in 2015 and specialises in all areas of claimant personal injury work and has experience in dealing with a large and varied case load consisting of employers liability, occupiers liability and road traffic accidents, including pedestrian and cyclists. More recently, Emma has also taken on a significant number of cases involving dental injuries. As our Personal Injury Lawyer of The Month, Emma tells us more about her and her career.
Which areas of the law do you specialise in?
I have over 10 years' experience practicing in all areas of claimant personal injury work. I really enjoy dealing with a variety of different cases, particularly occupiers liability cases, road traffic accidents involving pedestrians and cyclists and employment matters. I've noticed over the last few years that there has been an increase in cases involving dental injuries, which I also enjoy dealing with.
What do you enjoy about your work? 
I love the variety of cases and the fact that no two cases are the same. I enjoy being able to assist individuals who have been involved in a traumatic accident and being there for them following the accident to settlement of their case. I also find the medical side of cases interesting. It's important to fully understand the injury and the impact it's having which then enables me to organise appropriate rehabilitation. I also enjoy negotiating settlement with the defendant. Being able to secure the best possible outcome for my client is very rewarding.
What has been the highlight of your career so far?
It's genuinely very difficult to select one highlight. I am always very pleased for my clients who achieve a good settlement when liability has been denied for years. I acted for a gentleman who suffered very serious facial and dental injures in a cycling accident. The case went on for several years and liability was denied throughout. I felt very strongly about his case and persevered even when at times it didn't look like he was going to be successful. I was very pleased for my client when I was able to able to secure him a settlement, particularly as he suffered from very nasty injuries.
Another highlight was acting for a family member. Liability was denied on his case for years and we were successful at trial. The defendant then decided to put in an appeal, which they subsequently withdrew. The pressure of acting for a family member, going to Court and dealing with an appeal for the first time kept me on my toes!
What's your favourite thing about working at Hodge Jones & Allen?
The team I work with are very friendly and always willing to help each other and go above and beyond for their clients. They are so passionate about what they do, which I feel is so important.
Can you tell us about the most interesting case you've worked on recently?  
I've recently settled a case for a gentleman who had an accident at work. He injured both ankles and both knees and it took some time following several operations for the full extent of his injuries to be understood. This had a huge impact on his ability to work and his general well-being. I was very pleased to be able to secure him a settlement. It was also important for him to see an end to the litigation after so many years and I was pleased to have been able to represent him from the start of his case to settlement.
Lastly, when you're not at work, what do you like to get up to?
My one year old certainly keeps me busy! I love cooking, good walks and a glass of wine. I also enjoy many sports including running, skiing, swimming and when I have felt particularly adventurous I have also taken part in triathlons.