Hodge Jones & Allen support Brake's Kids Walk campaign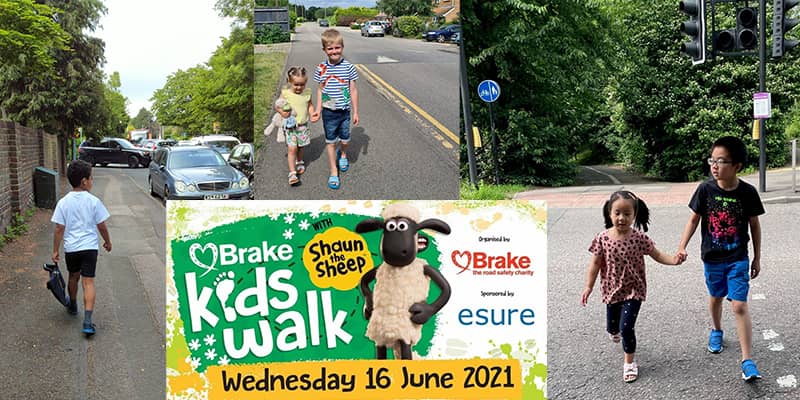 Every 20 minutes someone is killed or seriously injured on UK roads. The statistics of road casualties in the UK do not make easy reading and as personal injury lawyers, helping victims of road traffic accidents, we see first-hand the devastating impact road traffic accidents can have on victims and their families.
Brake, a road safety charity established in 1995, provides free support for bereaved and seriously injured victims of road traffic accidents as well as for those supporting road crash victims. They offer free and confidential support from a caseworker to support victims after a serious road collision and can provide help and advice in dealing with the aftermath with advice on criminal prosecutions, seeking support from specialist lawyers, injury rehabilitation, bereavement counselling and so on.
As well as supporting those who are bereaved or seriously injured, Brake do a lot of work campaigning for road safety and works with communities and organisations across the UK to stop the tragedy of road deaths and injuries. Their aim is to raise awareness about safety on the road, make the roads safer for everyone and to support those affected by road crashes.
I was shocked to read the statistic that on average, six children are killed or seriously injured on the road in the UK every day. This is the equivalent to a whole class of children every single week. Brake's message is that every child should have the right to be able to walk safely in their community without fear of traffic.
Wednesday 16 June 2021 is Brake's Kids Walk, where thousands of schoolchildren aged 4–11 will take part in a short, supervised walk to promote important road safety messages. Children walk in pairs in crocodile formation, while holding hands, to emphasise the importance of being able to walk without fear or threat from traffic.
With this in mind, it is so important for us to teach our children vital road safety skills to keep them safe. Children are never too young to start learning how to cross the road safely.
Here are a few ways you can help your child to learn about road safety from a young age:
When your child first starts to walk with you, talk to them about always holding hands with an adult that they know, walking in the side of pavement furthest away from the road.
Look for safe crossing places such as zebra crossings and talk about places where it is not safe to cross the road
Talk about bright and dull colours and which are best for being seen.
Use the Stop, Look, Listen and Think sequence for crossing the road.

Stop: when you approach a crossing, STOP before you come to the edge of the pavement
Look: LOOK for cars, bikes, lorries and other vehicles by looking right, left and right again
Listen: LISTEN for vehicles too. You may be able to hear them before you see them
Think: is there enough time for you to cross the road safely?
We represent individuals of all ages who have been involved in road traffic incidents and have seen the devastation and life-changing injuries that people have suffered through the negligence of other road users. If you have been the victim of a road traffic accident that was not your fault, it is important to seek advice from a specialist personal injury solicitor as soon as possible. 
Call 0808 271 9413 to find out how we can help you or request a call back.