Ambulance transfer delays – danger to patient safety?
It was recently reported that an ambulance crew had to wait 11 hours to transfer a patient at the Worcestershire Royal Hospital. It also transpired that on the same day, 34 patients had to wait an hour before being booked in at the hospital. While delays in transferring are common, the length of this particular delay stands out for all the wrong reasons. The headline figure of 11 hours is particularly concerning – particularly from a patient's perspective. If such lengthy waiting time become more commonplace, there is potential for an increase in clinical negligence claims because of delayed treatment stemming from patients being unable to be transferred to A&E in a timely manner.
Ambulance delays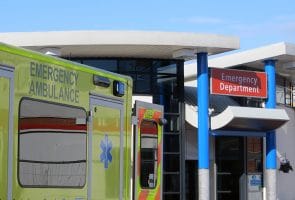 Patients who are taken to A&E by ambulance would expect to be transferred promptly upon arrival at the hospital. According to the National Audit Office, in 2015-16 approximately 500,000 ambulance hours were lost to turnaround at A&E departments taking 30 minutes or longer. This is despite the expectation that a transfer from the ambulance to A&E should take no longer than 15 minutes.
Over the past two years, the NHS has attempted to address this. The NHS has committed itself to ensuring that no patient is waiting more than 30 minutes before transfer from the ambulance to a doctor within the hospital. In light of the above incident at Worcestershire Royal Hospital, this seems like a difficult target to meet. It should be appreciated that other factors may be behind delays in transferring patients. The fact is that most if not all A&E departments are at full capacity on a regular basis, particularly during the winter months; with the effect that patients cannot be transferred from the ambulance to the hospital, as there are no beds available. The lack of beds, investment and the current financial strain on the NHS do not help either.
There are some signs that the situation is improving, albeit slowly. The London Ambulance Service highlights in its Quality Strategy Vision that as measured against 15, 30 and 60 minutes handover times, performance between 2017-18 was improved from 2016-17. Although the improvement is varied, it demonstrates that this issue is being taken seriously.
The key point is that patients should not be waiting in an ambulance for 11 hours prior to transfer. It is a reasonable expectation on the patient's part to be transferred and treated within a reasonable time in non-emergency situations. Ambulance handover times do need to be reduced further to ensure timely treatment of patients and avoid an increase in potential clinical negligence claims.
A ticking litigation time bomb?
These waiting times may potentially lead to an increase in clinical negligence claims due to delayed treatment. In emergencies such as heart attacks or strokes, treatment is time-critical to ensure the best outcome for the patient i.e. survival and recovery. It is conceivable that patients will suffer because of delays in transferring from the ambulance to the hospital. In some situations, a worse outcome may occur than is anticipated by the patient, because of having to wait for being transferred from the ambulance to the hospital. There is a danger that waiting times such as this instance will risk patient safety and see an increase in clinical negligence claims as a result.
Summary
This particular instance is concerning. The fact that a patient had to wait 11 hours before being transferred should act as a catalyst to the NHS to ensure that transfer times are reduced as a matter of urgency. While it is recognised that A&E departments at all NHS hospitals are under great demand, waiting 11 hours in an ambulance should not be considered as acceptable. The Chief Executive of Worcestershire Acute Hospitals NHS Trust has stated that this issue was a priority. While this should be welcomed, this issue needs to expedited otherwise patient safety may be risked even further, potentially leading to an increase in claims against the Trust. This instance should also serve as a wakeup call to all NHS Trusts that transfer times need to be reduced further.