The Makeup That Is Most Likely To Contain Talc – And Potentially Harmful Asbestos
Talc, which is a naturally occurring mineral, is a key ingredient in many cosmetic products, but it can be contaminated with asbestos fibres – a Class 1 carcinogen.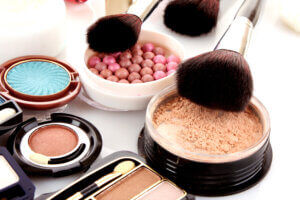 We've been concerned for some time about the use of asbestos contaminated talc in makeup products, and the lack of consumer awareness around this issue.
And a recent survey we conducted with 2,000 UK adults revealed that half (49%) are still in the dark about this issue.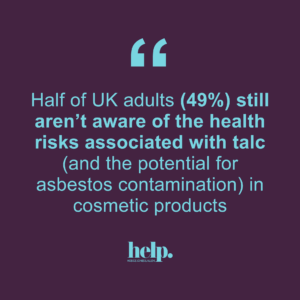 While not all products that have talc as an ingredient will definitely contain asbestos fibres, there is no way of knowing for sure, and inhalation of asbestos fibres can cause fatal cancers.
It may be reassuring to know that manufacturers do have to undertake a safety assessment before products can be retailed on the UK market.
To help you make a more informed choice about the products you buy, we've looked at the ingredients lists of more than 600 UK-sold makeup items in 12 categories, from 50+ different brands (at different price points).
Here's what we found.
How common is talc and are which products is it most likely to be found in?
Overall, nearly four in ten (38%) of the products included in our study listed talc as an ingredient, and it was most found in powder-based eyeshadows and blushers.
It was also quite common in powder-based bronzer and foundation.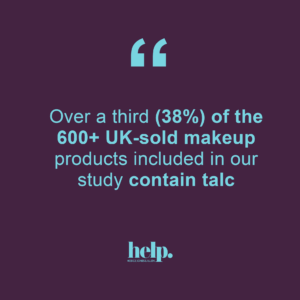 The makeup product type that are most likely to contain talc – by highest to lowest
Eyeshadow (powder) – 76%
Blush (powder) – 76%
Bronzer (powder) – 66%
Foundation (powder) – 62%
Setting powder – 52%
Highlighter (powder) – 35%
Bronzer (cream) – 22%
Foundation (cream) – 19%
Concealer (cream) – 15%
Blush (cream) – 14%
Highlighter (cream) – 5%
Eyeshadow (cream) – 3%
Are certain brands more likely to use talc in their products?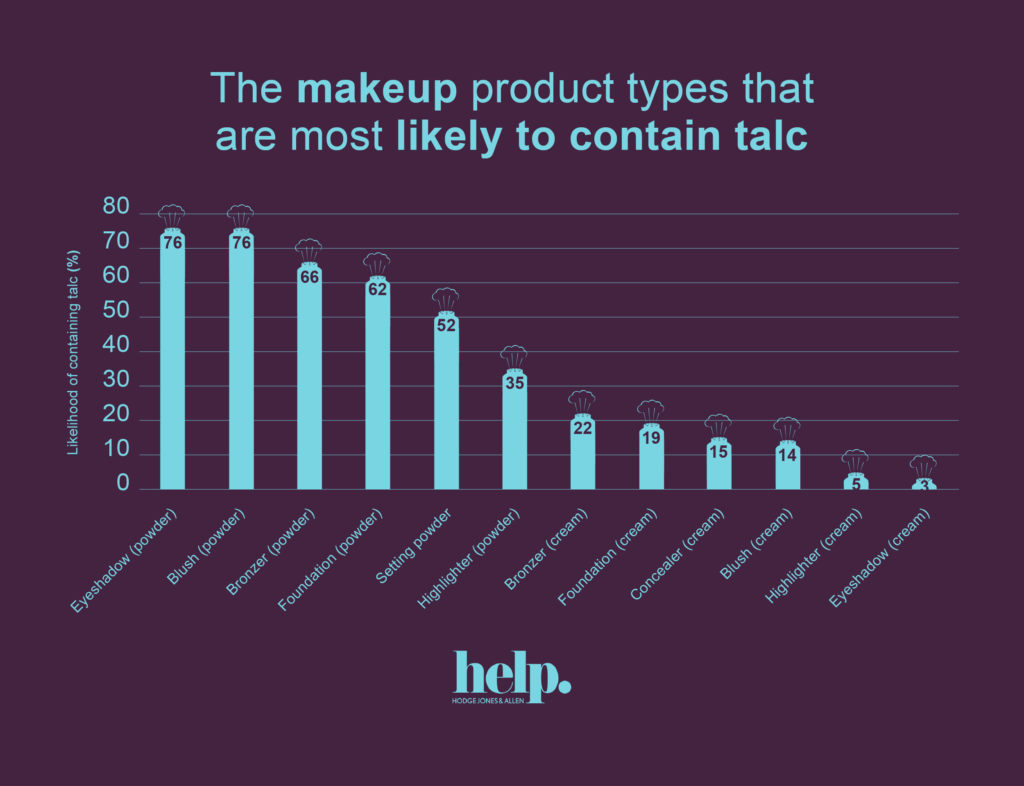 We manually checked the ingredients lists of 12 product types from 50 different brands, and there were a few brands where talc featured more often.
It's worth being aware that price point doesn't seem to play any role in the inclusion or exclusion of talc – it is used in both premium and low-cost product formulations, and the only way to know for sure is to check ingredients lists.
Brands with the highest percentage of products that contain talc (in this study)
Fenty (82%)
Yves Saint Laurent (75%)
L'Oréal (67%)
Rimmel (67%)
Be BeautyBay (57%)
Sleek (56%)
17 (55%)
Collection Cosmetics (55%)
Illamasqua (55%)
No7 (55%)
NYX (55%)
While several products from Rihanna's brand, Fenty, do contain talc, they claim to use "the highest-quality talc" and "test it to confirm the absence of asbestos fibres".
L'Oréal also claims that the talc they use is "of high quality" and "tested to confirm the absence of asbestos fibres" on their website.
And while many of the Yves Saint Laurent products we looked at in this study were revealed to contain talc, one of their ranges called 'Nu Collection' is reported to be entirely talc-free.
What about products and brands that don't have talc?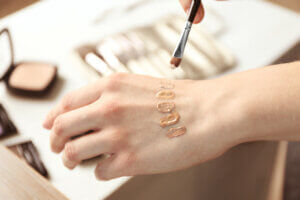 Overall, cream-based formulas are a lot less likely to contain talc, so if you're thinking about swapping out some of your products then this is a good place to start.
In our research, just 3% of cream-based eyeshadows had talc in them, 5% of cream-based highlighters, 14% of cream-based blushers, 15% of cream-based concealers, and 19% of cream-based foundations.
We are also pleased to report that there were some brands with no products (of those we looked at) containing talc, or only a very small number.
Brands with the lowest percentage of products that contain talc (in this study)
bareMinerals (0%)
Glossier (0%)
Kylie Cosmetics (0%)
MUA (0%)
SAIE (0%)
Victoria Beckham (0%)
Beauty Pie (9%)
Rare Beauty (13%)
Studio London (20%)
Morphe (22%)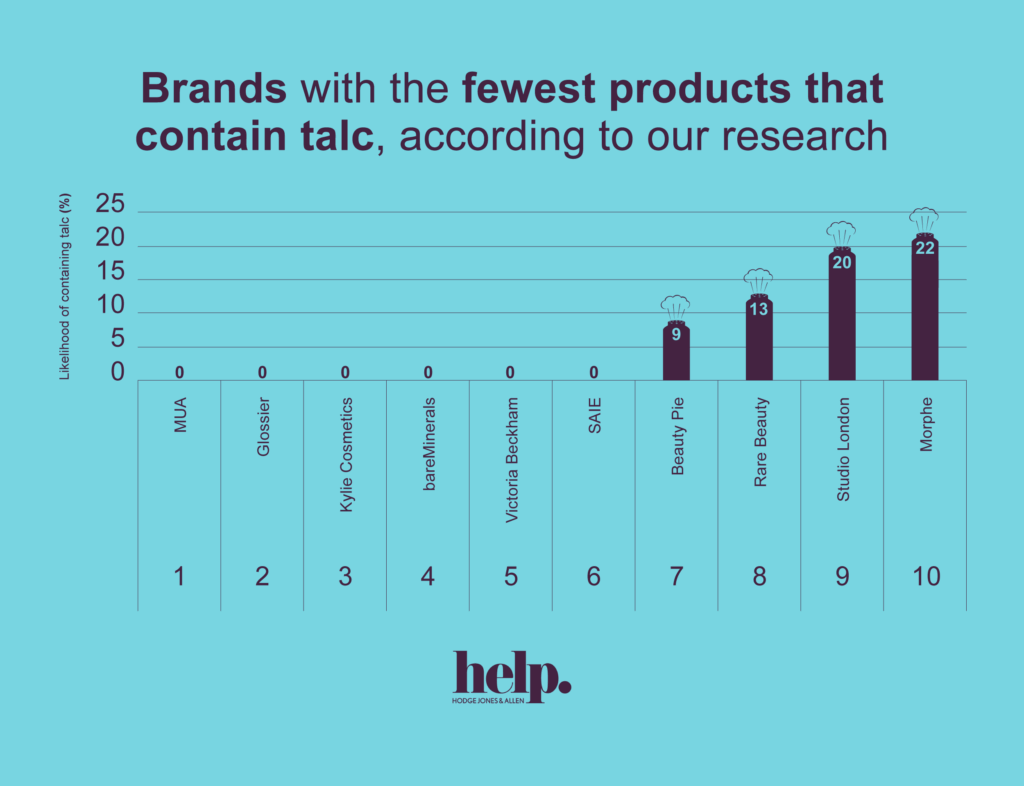 According to their website, MUA reformulated all their products to be talc free in 2020. This was the only brand that appeared to have this policy, and their products were amongst the cheapest.
e.l.f also advises that while talc is present when their products are being mixed, it "isn't part of the final product", although this information is presented on a third-party website rather than the e.l.f site directly.
Victoria Beckham also has a strict policy on talc. While none of the products analysed in this study listed this as an ingredient, the VB website states that when it is used, they also "only source talc from responsible manufacturers who certify that their talc is free from asbestos fibres."
Brands that say they only use talc that has been tested to confirm the absence of asbestos fibres*
Avon
Dear Dahlia
Fenty
L'Oreal
Maybelline
Revlon
Victoria Beckham
Do brands have to reveal their ingredients?
Brands should disclose their full ingredients lists on their products packaging, but not all online retailers display this.
We were disappointed to see that full ingredients lists were not available in the UK for Revlon, RMK, Avon, Natural Collection (exclusive to Boots) and Claire's Accessories makeup products, making it tricky for buyers to make an informed decision.
While Avon and Revlon both claim to only use "asbestos-free" talc, we were unable to determine how many of their formulas do or don't contain talc.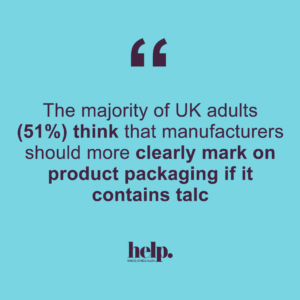 In our study, the majority of UK adults (51%) told us that they believe manufacturers should more clearly mark on product packaging if it contains talc.
Almost half (49%) think that talc should not be included in any products as standard too – with 25–34-year-olds the most likely to believe in this measure.
Four in ten (40%) said that products that contain talc should be tested more thoroughly for potential asbestos contamination, and over a third (35%) think manufacturers and brand should be more involved in raising awareness about the issue amongst consumers through social media, the media, advertising etc.
Just how high risk is this?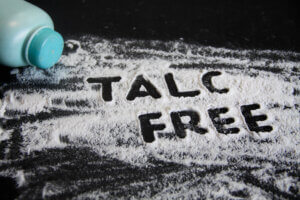 Talc and asbestos are known "companion minerals", which means that when talc is extracted at source and later milled and processed, it may be contaminated with asbestos.
Asbestos is really dangerous to our health, and while its importation into the UK has been banned since 1999, asbestos fibres are still found in talc and cosmetics that are available to purchase today – such as blusher, bronzer, contour palettes, eyeshadow, face powder, and foundation.
The way we use cosmetic products means that if the product contains microscopic asbestos fibres, it is inevitable that we will breathe them in.
Inhalation of asbestos fibres can result in various diseases, including mesothelioma, which is a fatal cancer.
Worryingly, cosmetic companies are not required to warn us of potential asbestos contamination through the use of talcum powder in their products.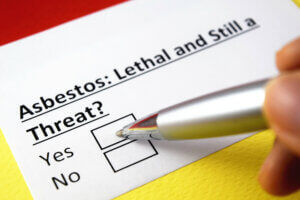 The British Medical Journal (BMJ) reported last year that "Johnson & Johnson will end global sales of baby powder containing the mineral talc in 2023, switching to a formulation based on corn starch." The company is already facing over 40,000 lawsuits in the US alleging that baby powder is contaminated with asbestos caused ovarian cancer or mesothelioma. The Johnson & Johnson baby powder containing talc is still being sold as of mid-2023, the switch still hasn't happened.
Are there any alternatives to talc?
Mica is sometimes considered an alternative to talc as they are both naturally occurring minerals that can add texture, absorb moisture, and help provide a smooth finish.
However, some manufacturers won't replace talc with mica as they offer slightly differently 'finish' qualities – mica reflects the light and makes skin appear brighter, while talc has a silkier and more muted finish.
Essentially, that means that if you prefer a makeup product with more of a matte finish rather than a highlighting finish, it could also be more likely to contain talc.
What do the experts think?
Lorna Webster, who is Partner here at Hodge Jones & Allen and an expert in Asbestos Compensation Claims said: "We are very concerned by the limited understanding of potential asbestos contamination in talcum powder and talc-based makeup products.
We want people to be fully aware of the ingredients being used in their makeup so they can make informed decisions.
While not all talc-containing products are contaminated with asbestos fibres, it is impossible to know exactly which are. And although a manufacturer may have certified the talc used in their product is "asbestos free", we should be wary of such marketing claims. The only way of being 100% certain, is to avoid using products containing talc altogether.
The issue of contamination of makeup is not confined to products consumed by adults either. Contamination was found in children's beauty brand Claire's Accessories formulas, and the brand removed three products from shelves in 2019 after traces of asbestos were found in an eyeshadow palette.
I have two teenage daughters myself we've had conversations about the products in their makeup bags. Many items have been thrown away and I've bought talc-free replacements for them. This doesn't have to be expensive though – as our research shows, a lot of the cheaper brands have talc-free formulas.
As a lawyer, I have been very concerned about how mesothelioma was caused in my clients, and as a mother, I was horrified to discover my daughters could have been put at risk too. If that future risk can be reduced by avoiding potentially contaminated products, surely that is the best thing to do."
Who can you speak to if you think you've been affected?
If you are suffering from breathlessness, a persistent cough, wheezing or chest pain, you should seek advice from your GP and ensure they know you may have suffered asbestos exposure, whether this be from your previous employment, the use of talc-based body powder or makeup.
Your GP can advise you and ensure that the cause of these common symptoms is investigated. In most cases, these symptoms are not serious, but they can signify the early stages of a more serious illness. If you are found to have mesothelioma as a result of exposure to asbestos fibres, you may benefit from greater treatment options with early detection.
We're also here to help you if you would like to discuss a potential asbestos compensation claim with us. We recognise that this is a challenging and often distressing subject, but our experts have decades of years of experience dealing with these types of cases and will support you every step of the way.
Hodge Jones & Allen also works with The London Asbestos Support Awareness Group, a charity which provides help to asbestos victims and their families in London and the South East England.
If you have been affected by asbestos exposure from the use of talc-based body powder or makeup and require legal advice in relation to seeking compensation, please contact our Asbestos & Mesothelioma Compensation Team on 0808 271 9413 for confidential and expert advice. They treat every client as an individual and strive to take away the worry of a legal claim. 
Our study sources and methodology
Sources
Survey of 2,004 UK adults ran in May 2023. Data split by respondent age, gender and location
Desk research of 660 different makeup products (12 categories and 55 brands) – full list of sources available
Additional information found from
Methodology
We researched and collated a list of 55 makeup brands (at different price points – premium, mid and low) that are available in the UK
Across 12 different product categories that are most likely to contain talc, we then manually sourced an example of that product for each brand (if available)
We then manually assessed the ingredients lists of each product to determine if it included talc or not
For five of the makeup brands, ingredients lists were not presented on their websites, or on other alternative websites where they are retailed from in the UK
While all effort has been made to ensure that the information included is accurate (as of 26th May 2023), human error is possible, and ingredients lists may be changed over time.