Asbestos Disease Awareness Organisation Annual Conference 2018
The impact of Asbestos
Asbestos is a fibrous material which was extensively used in the UK from the 1900's, due to its huge versatility and ability to be moulded into many forms including sheeting and cloth. However, by the middle of the C20th, it was widely known that exposure to this asbestos fibres can cause a number of illnesses, including a currently incurable cancer, malignant mesothelioma.
Asbestos was finally banned in the UK in 1999 as the toll on workers' and public health could no longer be ignored. Despite the known danger which asbestos poses, many countries around the world continue to mine and export it to countries where the mineral is still legal and where the use of asbestos products, particularly in construction, is still widespread. Although some countries have recently announced bans (Canada and Brazil), the chrysotile industry is trying to get governments to agree to extend their ability to peddle their deadly product for a further period of time, to "alleviate" the effects of an immediate ban on the industry. Never mind the risks to public health, profits are what matter to the producers.
ADAO Annual Conference 2018
Having attended the annual international conference, in Washington DC organised by Linda Reinstein and her great team, I feel a renewed sense of purpose in the work we do on behalf of victims of asbestos disease.
The conference was attended by a truly international panel of scientists, doctors, trade union representatives, politicians, journalists, activists, asbestos warriors, patients and carers. The range of talks was impressive as it highlighted the many different ways in which people around the world are and will continue to be affected by asbestos.
We learnt from Dr Jukka Takala, President of the International Commission on Occupational Health (ICOH), that previous estimates of those dying from asbestos diseases around the world are out of date and that the numbers are much higher than previously thought with over 38,000 deaths being reported in 20 countries in 2015. The UK sadly ranks 2nd in the league, with 2,864 deaths from mesothelioma having being reported that year. This just goes to prove how intensely the asbestos industry was able to penetrate the UK market in previous decades. It is now estimated that there will have been 30,400 mesothelioma deaths in these countries in 2016.
Whereas it was previously estimated that there were probably 3 deaths of lung cancer being due to asbestos, to every 1 case of mesothelioma, Dr Takala told the conference that the estimate is now 6 or 7:1. Many of these lung cancer cases will simply have been recorded as due to smoking. Linda Reinstein called for the need for Doctors to take a more in-depth work history in order to ensure such cases are correctly linked to asbestos.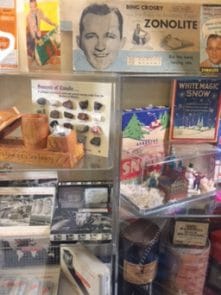 There was a fascinating but simultaneously gruesome exhibition of pieces of asbestos, asbestos products and packaging, in sealed cases, of course. Some of the items are shown below and include a rather attractive souvenir from Canada which features an asbestos miner's helmet and a lump of said mineral, fake snow used for example, in the filming of the Wizard of Oz, Kent cigarettes which had asbestos filters in them, and so on.
A photographic exhibition by Earl Dotter paid tribute to the many workers who have lost their lives to asbestos through exposure at work.
Raising public awareness
The focus of the conference was wholly different to other conferences I've attended, the focus here being on prevention of further deaths and illness caused by asbestos, rather than focussing on treating the outcome of exposure. Dr Flores made an impassioned call for funds to be directed to education and prevention, treating the cause rather than the symptom. He reminded us that the allocation of funding in this area is very much a question of political priorities and finance.
We are lucky that we live and work in a country which has banned asbestos but we need to continue to raise public awareness that asbestos continues to pose a threat to us in our daily lives due to its presence in so many of our buildings. We also need to be aware that we could again see imports of asbestos products in the UK if we enter into certain trade agreements such as TTP. While there's money to be made, the threat remains. Thanks to the work of activists and campaigners such as those attending this conference, we know that people working together to face this industry, do make a difference.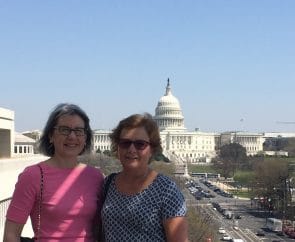 In the picture: Isobel Lovett, Head of Industrial Disease department and Marika Townsend, Advisor at London Asbestos Support Awareness Group
If you require legal advice in relation to seeking compensation for an asbestos disease you are suffering from, or are considering making a claim for a loved one who has passed away from an asbestos disease, contact our specialist and dedicated Asbestos & Mesothelioma Compensation Team on 0808 271 9413 for confidential and expert advice. All Partners in our Asbestos team are APIL accredited Asbestos and Occupational disease