Drivers be prepared and drive safely this winter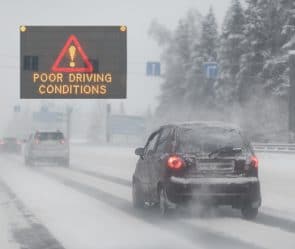 Daylight saving hours have come to an end, mornings and evenings will be colder and darker. Roads can be dangerous at the best of times, but throw darkness, some ice and snow into the mix and this provides drivers with extra challenges due to the more difficult driving conditions on the roads during these treacherous few months.
It is therefore important not to underestimate the increased risks to our roads that winter can bring. Ice, snow and excessive surface water lead to hazardous roads and blinding sun, rain and fog contribute to poor visibility, which all increase the likelihood of a collision.
How you can prepare yourself for the dark evenings and mornings
In order to minimise the risk of an accident this winter, consider this checklist before you set off on a journey in dark or icy conditions:
Make sure your car is properly maintained. Check your vehicle lights before starting any journeys. Do daily walks around to check all lights are working and use a wall or garage door to check the rear lights, if you are on your own.
Test that your windscreen wipers are working properly and anti- freeze solution has been added.
Check weather forecasts before you begin your journey and allow extra time to complete your journey.
If you are a pedestrian or a cyclist wearing reflective clothing will help make you more visible to road users.
Prepare for the worst – pack a flask of hot drink, a bottle of water, a few snacks and a warm blanket. Make sure you charge your mobile phone before setting off in case you break down and need to call for help.
What to do if you are involved in an accident
Whether you are the driver, passenger or pedestrian who has been involved in an accident you must take a note of the other driver's details to include their name, car registration, make of car and insurance details. It can be extremely distressing and traumatic if you have been involved in an accident, especially if someone has been hurt. You may not be thinking clearly but you must remain calm and obtain these details. Taking a photograph of the Defendant's car and number plate would be helpful if you do not have a pen to hand.
I would suggest you call the police and take down the names and numbers of any witnesses who saw the accident. Taking photographs of the accident scene may also be helpful but only if it is appropriate to do so. Seek medical attention if you have been injured and make sure the accident details has been accurately recorded in your medical records.
Bringing a personal injury claim
If you have been involved in a road traffic accident through no fault of your own, you may also be able to claim compensation for your injury.
In order to bring a successful claim against a Defendant it will depend on a number of factors. The question of 'who is at fault?' is at the heart of any personal injury claim. Was the accident caused by the driver whose driving resulted in the collision, or was the accident caused by a poorly maintained road surface. You may be able to bring a claim against the driver and/or the Local Highways Authority.
If you were injured by someone who was not insured at the time of the accident or cannot be traced you may be entitled to claim compensation for your injuries under the Motor Insurer's Bureau Compensation Scheme.
If you have been involved in a road traffic accident through no fault of your own and would like an advice on bringing a claim for personal injury please call 0808 271 9413 to speak to one of our specialist experts or fill in our contact form.