What's so illegal about a bed in a shed?
Beds in sheds are sub-par housing (sheds, garages, shelters) prevalent in London, thanks to the desperate shortage of decent housing. Often they're unlawfully small, mismanaged, overcrowded, suffering from disrepair and just plain dodgy. Sheds are inhabited by the hidden homeless of London, often in Dickensian conditions.
This practice amongst unscrupulous property managers is becoming all too common and exploits the most vulnerable in society. Unsafe conditions lead to 483 fires in beds in sheds between 2009-2014, with 13 people dead and 69 seriously injured over that time.
Additionally, due to their illegal nature, beds in sheds are often undeclared for council tax purposes, leaving councils short-changed at a time when council budgets are squeezed harder than ever.
There are often licensing breaches, flouting of fire safety regulations and building regulations. So what conditions are acceptable?
Statutory overcrowding rules Distinguished
This is defined under Section 324 Housing Act 1985 and refers to room (Section 325) and space standard (326).
Room: If there is more than one person (excluding children under the age of 10 and partners) then a one room shed will fall foul of room requirements.
Space: this is slightly more complex; if a shed is 110 square feet it will be suitable for a maximum of 2 people. Between 90 and 110 square feet only 1 ½ (a half unit is for those older than one but under 10 years of age). Only 1 person may live in a unit comprising between 70 and 90 square feet. 50 to 70 square feet is only suitable for ½ a person.
To get an idea of how small this area is, here is an example of how much furniture you could store in a 50ft or 100ft area respectively: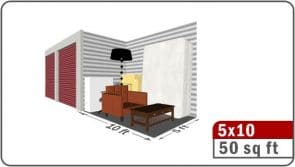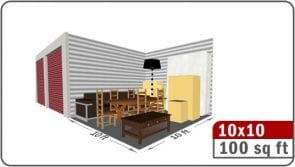 Health and safety rules Published
The Housing Act 2004 introduced the Housing Health and Safety Rating System (HHSRS) which private landlord must comply with when letting properties. Local authorities will assess housing conditions and allocate a banding according to the HHSRS for potential harms of deficiencies. As overcrowding and lack of space have been linked to mental distress and disorders the assessment must take into account the psychological needs for both social interaction and privacy. If there is a failing the Council may take enforcement action such as serving an enforcement notice, making a prohibition order, serve hazard awareness notice. In severe band 1 cases, the local authority may take emergency action (remedy the deficiency itself), take clearance action or demolish the property entirely.
Established database of dodgy landlords
Under Section 29 of the Housing and Planning Act 2016, a database of rogue landlords and property agents must be kept. The hope is that this will assist in combating poor quality living conditions. It includes banning orders for dodgy landlords with fines of up to £30,000. Wales go further than this; the Housing (Wales) Act 2014 requires all landlords and agents to be licensed and demonstrate that the properties they manage are 'fit and proper'. This affords tenants in Wales more protection and ensures accountability, raising property standards.
Disrepair need not go Unpunished
Damp and mould growth is more likely to spread within cramped conditions which makes beds in sheds not only inhumane due to lack of space, but also much more susceptible to disrepair. Disrepair like mould is a major risk to health and if unchecked can cause long-term respiratory damage. Unsurprisingly, it was found by the Centre for London that a third of London's private rental properties fail to meet decent homes standards. It is highly likely that people are suffering in silence when it comes to overcrowded and unhealthy living conditions. Accordingly, we would advise anyone living in such conditions to come forward and seek independent legal advice.