Teenager Died After Doctors Misdiagnosed Heart Rejection as Food Poisoning
A teenager died after doctors wrongly diagnosed her as suffering from food poisoning when her body was in fact rejecting a heart transplant.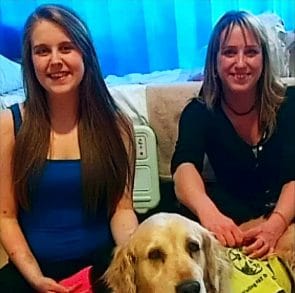 Jessica Brooks, 18, had a heart transplant which 'transformed her life' a year before she was admitted to hospital after vomiting for three days, but doctors still failed to diagnose organ rejection.
Instead Jessica was told she had food poisoning and then sepsis.
Desperate nurses pleaded with doctors to reassess Jessica, but they failed to attend to her for several hours after she was admitted to a high dependency unit.
A damning report into her death said: "Despite multiple attempts by the nursing staff, there was a significant delay in a doctor attending the unit.
"Discussion with the pathologist who conducted the post mortem indicates that the cause of the death was rejection of the transplant. The pathologist found no evidence of sepsis."
Jessica's mum, Emily, from Gillingham, Kent, said she cannot understand how doctors failed to realise that she was suffering organ rejection.
She said: "I've been told that if she had been diagnosed properly she may still be here today. She would have received her anti-rejection medication and my wonderful daughter may well still be alive here with me. Instead, because they misdiagnosed her as having food poisoning and then sepsis, we have lost her forever."
"I am so disappointed that they could have failed my daughter that badly. When I read that the hospital had admitted everything it was like losing her all over again. All of the emotions came flooding back. The fact is she should still be here, but because of their negligence she has gone."
Jessica was admitted to the Medway Maritime Hospital on January 16, 2017, because she was vomiting and had severe stomach pain. She had been unable to take her anti-rejection drugs for three days and was diagnosed with gastroenteritis.
The following day she was moved to a high dependency unit where she was diagnosed with sepsis. She died later that day.
Jessica had undergone a heart transplant the year before after she developed dilated cardiomyopathy – a condition where the heart becomes enlarged and cannot pump blood properly.
Emily, said: "When Jessica had a heart transplant it changed her life and I will be forever grateful for the extra year it gave her. She was full of energy again. Three days after her transplant she was on the exercise bike. Beforehand she had been struggling to walk up the stairs. When the fluid retention from the operation went down she started to look like a normal young woman again.
"She had monthly checks and the last was on 6th December, just over a month before she passed away and she was fine but then she fell ill.
"When she arrived at hospital they thought she had food poisoning as she was vomiting and was in a lot of pain above her stomach. We were left alone in A&E for hours and 13 hours later they had her on a general ward. It was around that time that they said they thought she had sepsis."
"Eventually, 24 hours after she was admitted, she was given a bed in the high dependency unit. I went home to change my clothes and have a bite to eat and told them to call me if something happened. I was only away for an hour. When I got back I was taken into a room where doctors were talking about operating on her stomach. I went to hold her but she made this awful sound, had her eyes open and looked like she was having a fit, I later learned that this was the death rattle."
"Ever since I feel like I have been unable to grieve properly as I have been trying to be strong for everybody else and fighting for Jess."
A year after her death the report was released revealing the catalogue of errors. The Trust has admitted liability in a civil claim brought by clinical negligence specialists Hodge Jones & Allen and apologised to Emily.
Emily said: "It was when I read the report that I discovered that some doctors refused to attend and the nursing staff were really upset. Who knows what may have happened if the doctors had actually bothered to attend when the nurses requested them to come down. It may have all been different."
"It's incredible that they could have got the diagnosis and her treatment so wrong, despite me repeatedly telling them that Jess wasn't keeping down her anti-rejection medication and she needed it. They tried to explain when I went to meetings after the report. One doctor said that they were used to dealing with kidney transplants, but not heart transplants. My response was that they knew the implications of a transplant patient not having their anti-rejection drugs, but he didn't have an answer as to why they didn't give her any."
"If it wasn't for the doctors who failed her Jess may still be here today. We will never know if Jess would have survived as the doctors didn't do their jobs. I just wish they had listened to me as I was telling them about her heart transplant but they weren't listening."
"I don't think I will ever be the same again. I think about Jess every day and now all of the legal stuff is almost over hopefully I will be able to grieve. Jess is irreplaceable and her loss has left a gaping hole in my life. My eldest daughter had moved out so it was literally me and Jess. It is lonely without her. She was my best friend and I find some days are really hard to get through."
Agata Usewicz, a specialist clinical negligence solicitor from Hodge Jones & Allen, which represents the family, said: "Jessica had been given a new lease of life after her heart transplant. Despite those treating her being aware of her medical history, when her body started to reject the organ she was incorrectly diagnosed with having food poisoning and then sepsis. At no point did any doctor assess her for organ rejection and this failure ultimately led to her needless and avoidable death. It is crucial that the Trust learns from these mistakes and takes steps to ensure that nothing similar happens again.