Six-Year-Old Boy Died After 'Numerous Opportunities' to Save Him
A six-year-old boy died after medical professionals missed 'numerous' opportunities to save his life, an inquest heard.
Sebastian Hibberd's family made repeated calls to NHS 111 and his GP for help, but the GP failed to return the call at all and the call handlers failed to spot the warning signs for intussusception – when one part of the bowel telescopes into the next.
Calls to the NHS 111 helpline reported he had been throwing up green vomit, had cold hands and feet and was confused and delirious.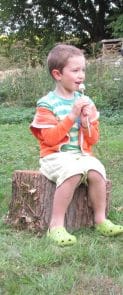 Sebastian suffered a cardiac arrest at home whilst waiting for medical treatment and died around 20 minutes after he arrived at Derriford Hospital in Plymouth on October 12, 2015.
Recording a narrative conclusion Senior Coroner Ian Arrow said: "On the balance of probability therefore there were several missed opportunities for him to receive life-saving treatment.
"In particular it is more likely than not, had his condition been recognised and he had received treatment at 8.44, his life might have been preserved. By the time the seriousness of his condition was recognised at 13.54 it was less likely that his life could be preserved."
He added that Sebastian's condition was not identified and he did not have sufficiently timely transfer to a hospital the enable the necessary treatment to be provided, despite red flag information being conveyed to the 111 service.
The call handlers failed to refer the information given to a clinician, meaning that the urgent assistance required was not actioned.
Mr Arrow noted the investigations and reviews by the organisations involved, and stated that a common finding of all these reviews has been the complexity of the contact system in place. This was experienced by Sebastian's father when he was seeking to obtain advice.
He added that he is considering whether further action is needed to prevent future deaths.
Russell and Nataliya Hibberd, the parents of Sebastian, said: "No words can properly describe the devastation that we all feel at the loss of Sebastian from our lives. He was quite simply the funniest, bravest, most adventurous and smartest of children and we will all miss the laughter and joy he brought to every single day. Sebastian had a love of life and the thought that we will never hear his cheeky giggle again breaks our hearts. He had endless enthusiasm for dinosaurs, playing outdoors, wildlife and drawing. But what we will always remember most is his kind, gentle and nurturing nature to everybody and everything he met, both humans and animals alike.
"Sebastian's siblings have lost their best friend and a wonderful brother who is missed at family mealtimes where his chair remains empty; him riding alongside us on family bike rides; and when choosing bedtime stories.
"What is most tragic and inexplicable in all of this is that Sebastian's passing was totally avoidable. To have found out the catalogue of errors that led to his death has deeply shocked and angered us. It was only because we approached the coroner in 2016 that we had an inquest at all.
"It is crucial that NHS investigations should lead to comprehensive changes to prevent similar tragedies. Whilst some changes have been brought in since we lost Sebastian, we believe these haven't gone far enough to protect children. NHS call handlers repeatedly failed to spot the signs of intussusception and this needs to be addressed with more clinical support. Education is key to preventing more deaths and we wish to raise parent and guardian awareness of the key signs that your child may have intussusception: Vomit that becomes green, and stomach pain that comes and goes. NHS pathways should recognise that green vomit and cold hands and feet are signs of serious illness, warranting urgent medical attention. Only if parents and the urgent care system recognise these signs will more families be prevented from going through the nightmare we have experienced."
Dawn Treloar, Partner at Hodge Jones and Allen specialising in medical negligence, who represents the family, said: "This inquest has found that there were multiple failures by individuals and organisations. The safety of the urgent care system has been called into question. Whilst some changes have been made more needs to be done to prevent situations like this happening again. Sebastian's death could and should have been avoided, and his family should not be in the position of grieving for their wonderful little boy."