Hodge Jones & Allen Joins RoadPeace's Legal Panel
National law firm Hodge Jones & Allen has teamed up with RoadPeace and has joined the charity's legal panel.
As part of the new partnership Hodge Jones & Allen will highlight RoadPeace's support services to their clients who may benefit from them, while road collision victims will be able to access legal support from the law firm. Hodge Jones & Allen will help victims get access to vital rehabilitation services and fight for compensation to aid them with their recovery.
Both organisations are also passionate campaigners for justice which makes it a great fit to work together towards a common goal, supporting and empowering those affected by road crashes.
The personal injury team at Hodge Jones & Allen has vast experience in helping victims of road traffic collisions, as well as supporting families through inquests and through life -changing circumstances.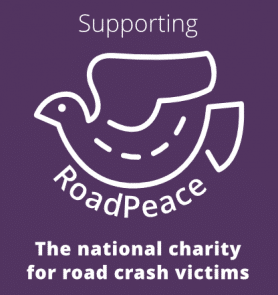 Nick Simmons, RoadPeace CEO said: "We are delighted that Hodge Jones & Allen are joining the RoadPeace Legal Panel and look forward to collaborating with them to help our members and Helpline callers. As the national charity for road crash victims in the UK, we provide information and support services to people bereaved or seriously injured in road crashes and engage in evidence-based policy and campaigning work to fight for justice for victims and reduce road danger."