Family launch legal action for infant son denied access to essential medical treatment, despite being refused legal aid
The family of a two-year old boy with a rare epileptic condition are taking legal action, having been refused potentially life-saving medication due to his NHS Trust and the National Institute for Heath and Care Excellence (NICE) disagreeing as to the effect of guidelines published by NICE.
However, Charlie's parents have been refused legal aid for the challenge. They are trying to raise money by crowdfunding to enable them to continue in the fight for Charlie's wellbeing: https://www.crowdjustice.com/case/charlie-hughes
Charlie Hughes was diagnosed with Infantile Spasms at ten weeks old. He was later diagnosed with West Syndrome, a rare condition characterised by spasms and developmental delay. He has in the past suffered up to 100 spasms a day and his condition has been largely resistant to anti-epileptic medication.
Doctors have confirmed that Charlie's seizures are causing damage to his developing brain and any treatment that reduces these seizures will reduce the damage being caused. Conversely, withdrawing any such treatment will likely result in further damage and could have life-threatening consequences.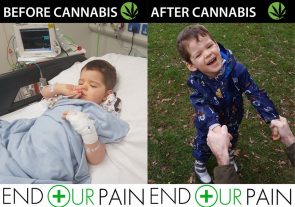 However, in May 2019 Charlie started taking two cannabis-based medicinal products, Bedrolite and Bedica, which his parents obtained from a private doctor. The drugs are manufactured in Holland according to the EU guidelines for good manufacturing practice (GMP). Since taking the drugs Charlie's seizures have reduced to less than ten a day and some days he is seizure free. There was also a significant improvement in his social and physical development. Charlie was happier, more alert, far more vocal, constantly babbling and began taking an interest in general plastic toys.
An electroencephalogram (EEG) in October 2019 provided objective evidence that the drugs are working, showing significantly reduced epileptic activity in Charlie's brain.
Charlie's NHS doctors accept that there has been a significant improvement in Charlie's condition due to the cannabis-based products and say they would prescribe them if they could. However, the NHS Trust responsible for Charlie's care says that the NICE Guideline on the prescription of medicinal cannabis prevents them from prescribing it. NICE say that their Guideline does not prevent prescriptions from being made, where it is clinically appropriate. But the way the Guideline is worded does not give doctors and NHS Trusts the confidence they need to prescribe the products.
Charlie's MP Chloe Smith wrote to the Secretary of State for Health and Social Care Matt Hancock to ask how the situation could be resolved. Mr Hancock responded that he was "determined that patients should receive [cannabis-based] products where it is clinically appropriate".
But the situation has not changed for Charlie; he has still being refused a prescription.
As a result, Charlie's parents have to pay thousands of pounds a month to pay for the drugs privately. This is not affordable in the long term and they worry that they will run out of money, with life threatening consequences for Charlie. They feel they have little option but to bring legal proceedings in the form of a judicial review against both NICE and the NHS Trust.
Alice Hardy, a Partner at Hodge Jones & Allen who is representing Charlie's family, said: "Charlie's family are challenging the failure of the NHS to prescribe what, for their child, is a life transforming, and possibly lifesaving, treatment. The failure of NICE to take a clear position on whether CBMP's can be prescribed in such cases has had damning ramifications for Charlie's family and so many others in the same position."
Alison Hughes, Charlie's mum, said: "Charlie is only two years old, but he has spent the whole of his life trying different medications, many unlicensed for children and most with damaging effects on the developing brain. Finally, we've arrived at a treatment that is helping his condition. We are desperate to have CBMP's approved. Every day that we don't see justice is another day of suffering for Charlie."
The challenge is part of a wider campaign on behalf of other families affected by treatment-resistant epilepsy, who have also seen benefits from medical cannabis but are unable to access it on the NHS. The campaigning group 'End Our Pain', which helps secure legislation for access to whole plant medical cannabis for these families, who hope that this challenge will result in positive changes for them too.
For further information, please contact:
Yellow Jersey PR:
Sarah Jehan, Account Director
Sarahjehan@yellowjerseypr.com
M: +44 (0)7930 043 188 | T: +44 (0)20 3004 9512
Alex Crean, Account Executive
Alex@yellowjerseypr.com
M: +44 (0)7753 170 777 | T: +44 (0)20 3004 9512