Widow receives long-awaited compensation owed following husband's exposure to asbestos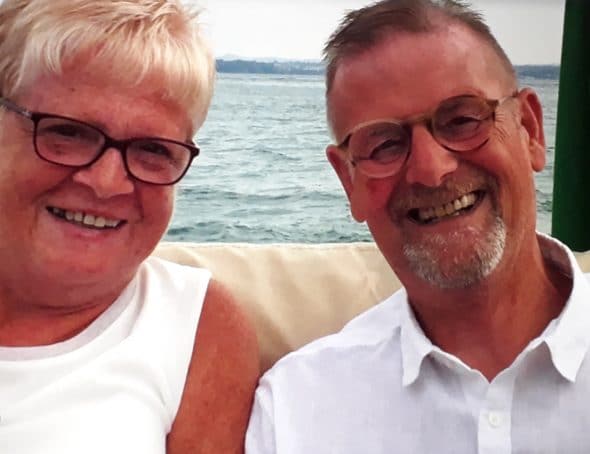 Christine Glover has received compensation from her late husband's employer, J. Lyons Food Products Limited (previously known as Henry Telfer Limited), after continuing his fight for compensation following his diagnosis of malignant mesothelioma.
Stephen Glover worked as a pipe fitter's mate for Henry Telfer Limited between the years of 1968 and 1971. During his time at the firm, Stephen was exposed to airborne asbestos fibres when repairing boilers and pipework, most of which were covered with insulation containing white asbestos. After removing and replacing the lagging, Stephen was often left covered in dust containing deadly asbestos fibres.
In 1969, regulations were introduced which required his employer to protect employees from inhaling asbestos dust, by taking precautions including ensuring that the workplace was properly ventilated, and that all employees were given protective respiratory equipment – all of which the firm failed to do.
In October 2018, Stephen pursued a compensation claim, having been diagnosed with malignant mesothelioma – a form of cancer, strongly linked to exposure to asbestos dust. J. Lyons Food Products Limited initially denied liability, despite strong evidence that they were in breach of the regulations.
Just two days prior to first the planned court hearing, Stephen tragically passed away, leaving his wife of 18 years, Christine, to adopt the claim and seek the compensation he was entitled to. The Kent and Medway Coroner found that Stephen's death was due to the industrial disease, malignant mesothelioma.
The Defendant then conceded liability and made Christine an interim payment. Only days before the final hearing was due to take place, J. Lyons Food Products Limited made a six-figure offer of settlement. The agreed settlement included the compensation that Stephen would have received had he survived, compensation for Christine having to care for Stephen as his health deteriorated and Christine's loss of income as a result of Stephen's passing.
Christine commented:
"Stephen was deeply loved by myself and all his family, including his 12 grandchildren. We're lucky to have enjoyed so many treasured moments with him over the years. Whilst the money doesn't even begin to make up for our loss, I'm relieved that the case has ended and that we can try to move forwards."
"I'm incredibly grateful for how Isobel and the team at Hodge Jones & Allen helped me throughout the entire process, never failing to give me the advice and support that I needed. Their expertise and guidance helped me get through this difficult time."
Isobel Lovett, a Partner at Hodge Jones & Allen who represented the Glovers, said:
"Whilst this case was incredibly difficult for Christine due to Stephen's passing, I'm glad that we were able to secure for her, the compensation that she and her husband fought for and deserved. I hope that the settlement brings closure for Christine and gives her security in the next phase of her life.
"In situations where the claimant passes away, we're able to work alongside their family to continue their fight for justice. At Hodge Jones & Allen, we understand how difficult this can be and ensure that each and every matter is dealt with sensitively and with compassion."
Unfortunately, asbestos-related disease such as mesothelioma are not yet confined to the history books. Because of the long latency period between exposure and onset of these illnesses, exposure to asbestos remains a threat to many workers and their loved ones, particularly those who previously worked in the industrial sector."
For further information, please contact:
Yellow Jersey PR:
Sarah Jehan, Account Director
M: +44 (0)808 239 2247 | T: +44 (0)808 239 5975
Alex Crean, Account Executive
M: +44 (0)0808 239 3996 | T: +44 (0)808 239 5975