#IWD2020 – Why a domestic violence refuge is not a residence of choice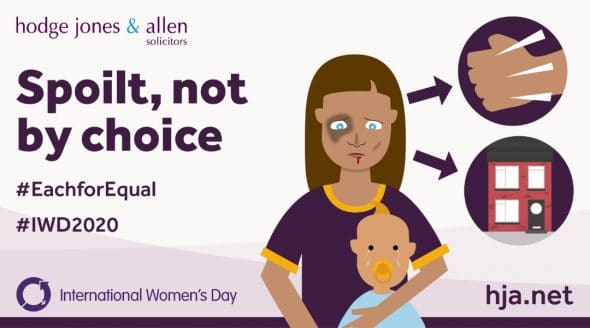 The first known UK domestic violence refuge was opened in London in 1971, a time when abuse was very much a matter behind closed doors. Refuges are intended to be a place of sanctuary, they provide emergency and safe accommodation to those fleeing violence. Since 1971 a national network of refuges has grown, allowing (predominantly) women and children to flee to a place of safety.
As Baroness Hale in R (Aweys) v Birmingham City Council [2009] 1 WLR 1506 at [43] eloquently summed up,
"A refuge is not simply crisis intervention for a few nights. It is a safe haven in which to find peace and support. But it is not a place to live. There are rules which are necessary for the protection of residents but make it impossible to live a normal family life. It is a place to gather one's strength and one's thoughts and to decide what to do with one's life. The choices facing a woman who flees domestic violence are complex and difficult".
As a housing solicitor at Hodge Jones & Allen, I work alongside some of the UK's leading domestic violence charities, receiving referrals to assist women and their children who encounter problems with moving on from these refuges when approaching a local authority as homeless.
A report from Shelter (2002) found that domestic violence was the leading cause of homelessness in the UK.
The problems these women encounter are endless, I could fill pages setting these out. In short, local authorities are cash strapped and lack the front line staff and housing stock to assist everyone who approaches. Staff are often poorly trained when dealing with applicants fleeing violence (if at all) and appear to have little understanding of domestic violence in general and the strength and courage it takes to flee from a relationship of abuse.
This blog will consider just one particular issue which highlights the inequality women face when presenting as homeless; that is whether her residence in a refuge in a particular local authority district, as a result of having been the victim of domestic violence, is a "residence of his own choice" within the meaning of section 199(1)(a) of Housing Act 1996.
This is an issue that since the introduction of the Homelessness Reduction Act 2017; has sadly become the default position of many a local authority when faced with a woman who approaches them as homeless following a stay in refuge outside their district or area. I am seeing this frequently, that women are being told that their local connection is with the authority where the refuge is based and their application is being referred back. All because they "chose" to reside in the refuge.
Outrageous? Yes. Unlawful? Well, not exactly. I'll explain.
When anyone approaches a local authority as homeless, before any assistance may be given, the authority must determine that applicant is eligible for assistance (essentially question of immigration status) and either threatened with homelessness or are homeless. It's at this point, before the local authority decide whether they owe a duty to assist, that they have a discretion to refer that duty to another local authority if they believe that is where the applicant's local connection is. The position is the same when a local authority are considering whether they owe the main housing duty.
A local authority can only refer an applicant to another local authority if the conditions for referral are met, one of which is that they have a local connection elsewhere by having resided someone else by choice, usually for a period of 6 out of the last 12 months. The relevant provisions of Housing Act 1996, as amended are:
Section 198 Referral of case to another local housing authority
(A1)If the local housing authority would be subject to the duty under section 189B (initial duty owed to all eligible persons who are homeless) but consider that the conditions are met for referral of the case to another local housing authority in England, they may notify that other authority of their opinion.
(2)The conditions for referral of the case to another authority are met if—
(a)neither the applicant nor any person who might reasonably be expected to reside with him has a local connection with the district of the authority to whom his application was made,
(b)the applicant or a person who might reasonably be expected to reside with him has a local connection with the district of that other authority, and
(c)neither the applicant nor any person who might reasonably be expected to reside with him will run the risk of domestic violence in that other district.
Section 199 Local connection
(1)A person has a local connection with the district of a local housing authority if he has a connection with it—
(a)because he is, or in the past was, normally resident there, and that residence is or was of his own choice,
(b)because he is employed there,
(c)because of family associations, or
(d)because of special circumstances.
(3)Residence in a district is not of a person's own choice if—
(b)he, or a person who might reasonably be expected to reside with him, becomes resident there because he is detained under the authority of an Act of Parliament.
Herein lies the issue. Firstly, when a woman makes the decision to flee violence and enter a refuge, she calls a specialist telephone line and after assessment of her circumstances will be offered the first available space. There is no choice in where that space will be. The "choice" is to take what is offered and move to the safety of a refuge or remain in a home that unsafe. Considering the experiences clients that I have worked with, I do not consider this a choice.
By way of context, statistics from a quick Internet search show that reports of domestic violence in the UK are on the rise, this is against a backdrop that two women a week are killed by a current or former partner in England and Wales. (Office for National Statistics (2019) Homicide in England and Wales: year ending March 2018, average taken over 10 years)
Secondly, a space in a refuge will usually be available for a fixed period of 6 months; whilst there, a woman (and any children) will be provided with intense counselling to provide her with the tools to cope with what she has been through before she moves on to independent living.
When ready to leave a refuge, women in most cases I have worked on, will approach a local authority away from the refuge to start afresh. It will often be an area that is sufficiently close to friends and family where she can access support and that she considers safe.
This is when she encounters the decision that she has no local connection, the decision will have a copy and paste paragraph to say that she has been resident in accommodation she has chosen i.e. the refuge, for the last 6 out of 12 months. She will be referred back to the authority where her refuge happened to be as she has been deemed to have established a local connection in the place she had hidden and received treatment. The first choice she has made independently is removed from her again.
Unhelpfully, there is no right of review against this due to a drafting error in the Homeless Reduction Act 2017. A right of review is only conferred if the local authority are later satisfied that the main housing duty may be owed, but is referred to another local authority at that time.
The only accommodation that the law says is not a choice is essentially prison or an involuntary detention under the Mental Health Act 1983. I feel very strongly that a domestic violence refuge also deserves this status in the law.
The leading case law and challenge to this position, is the case of Wandsworth LBC v NJ [2013]. A case about a woman fleeing violence, eventually decided by the Court of Appeal. In this case, NJ (whose name was anonymised to protect her identity due to the risk of violence) became homeless after fleeing serious violence in Leicester. She called a national helpline for advice on fleeing and the only refuge place available was in Lambeth, which she accepted and fled to. After the period of 6 months and after being deemed ready to move on, she approached Wandsworth as homeless. They accepted she was owed a duty but they referred this duty back to Lambeth on the basis that her local connection was to Lambeth, having resided in this accommodation of choice for 6 months.
She challenged the decision and was successful in the County Court. That success was short lived as Wandsworth appealed this decision to the Court of Appeal who decided that NJ chose to live in the refuge in Lambeth, she chose to come to London and she chose to call the woman's charity for help.
I strongly believe that a woman is forced to enter a refuge to protect her (and her children's lives). Had she any choice in the matter, she would chose not be abused in the first place. I have met women who have been raped by partners, have been starved, have been physically caged, have had their finances controlled and have been so severely beaten over and over that they are deemed at risk of homicide.
Curiously and by example as to how wrong the current legal position is, if a man chooses to commit domestic violence (and yes, that is a choice he makes), and he is sent to prison for his crime, on release from prison he then may approach any local authority he chooses without having to show a local connection.
The current position denies women the very same benefit of deciding which authority should deal with their application simply as they have been forced to flee to a refuge.
The law can change though. NJ was decided without consideration of the Equality Act 2010. As women are disproportionately more likely to be victims of domestic violence, I consider the blanket approach of referring women back to be indirect discrimination.
NJ also did not rely upon challenge using the European Convention of Human Rights, perhaps a declaration of incompatibility is ripe for the taking?
These issues ought to be considered by all practitioners who are also dealing with these perverse yet routine decisions so that one day, there may be equality between all those approaching as homeless who have no local connection.