Supreme Court rules against single parents
The Supreme Court has announced a ruling that will affect the housing of thousands of single parents across the country, particularly in areas with higher rents. It has been found by the highest courts in the UK that the controversial "benefit cap" does not amount to discrimination.
The judgement has yet to be revealed in full
What is the benefit cap?
For those who are not aware, the benefit cap applies to all people who are receiving subsistence benefits and guarantees that households do not receive more than a certain amount per week (£422 inside London and £385 everywhere else). This may sound to some people like a reasonable amount of money to live on, but the problem is that these levels are set regardless of the actual cost of living in your area (aside from the London weighting). In particular, the figures do not account for the number of children a single parent may have and include all housing costs.
Places where rents have skyrocketed in the last decades have been hardest hit. People who have lived in areas their whole lives can no longer afford to do so. The consequences are hardest for a single parent of a young child. Not being able to live in your area can mean moving away from friends and family and support networks all in search of cheaper rents.
There are various exemptions to the benefit cap, for example if you suffer from a disability or are of pension age. Single Parents are also exempt if they are working more than 16 hours per week.
What was the challenge?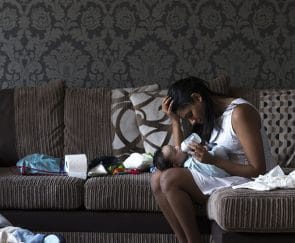 The challenge was based on the premise that the benefit cap disproportionately affected women who are considerably more likely to be single parents. In particular, those with children too young to go to school. A child under school age cannot be left to its own devices for several hours a day, and so unsurprisingly it can make it harder for single parents to find work that can accommodate alternative childcare.
This can be made even harder for parents with children under 2 because they do not receive free childcare vouchers of 15 hours per week that the parents of 3 and 4 year olds are entitled to. Other benefits such as working tax credits can cover some of the costs but the effects on this group of people is significant. It was claimed that it was also discriminatory against the children themselves who would experience poverty and interference to the right to family life.
A separate case challenged the discrimination against those with children under 5.
The DWP said that they had stated goals –
To improve fairness in the benefit system (or perhaps more accurately to improve confidence in fairness), by ensuring non-working families do not look like they are being rewarded.
To save money
To create an incentive for parents to return to work
The courts had to consider whether it was truly an incentive to return to work, the statistics of which were not readily available as the records did not distinguish between single parents and couples. In all household affected, apparently 5% were incentivised to return to work according to government statistics.
The Supreme Court did not reach a consensus in this case, 2 of the 5 judges did not agree with the final decision. Ultimately however, while it was considered that while there was disadvantage to single parents, the policy was not "manifestly without reasonable foundation". Lord Wilson cites that the existence of a discretionary fund available to apply for was essentially enough of a safety net to prevent the worst excesses of the regulations (Discretionary housing payments).
The Judgement grapples with a number of the challenges facing this section of society. Statistics show that this section of society (single parents) are already more likely than any other to be living in poverty according to the Social Metrics Commission study in 2018 which found that 50% of single parents are considered to be so. In 2016/2017 33.6% of children lived in poverty. In respect of those working part time, (which would be the more likely for a lone parent) 63% are still considered to be living in poverty. It is regrettable that reducing these figures was not one of the aims of the overhaul of the benefit system.
This is a disappointing decision that is going to affect thousands of (mainly) women and children. A positive result from the court in this case could have allowed a re-examination of the effects on the welfare reforms from the perspective of those that the system should be designed to assist.
Many people have been waiting for this judgement to find out if they will be able to continue to afford the roof over their heads, those who have fallen into rent arrears already and those facing eviction. We can expect that accommodation for those with very young children will be lost as a result.