Do people snoop more on their partners because of technology and social media?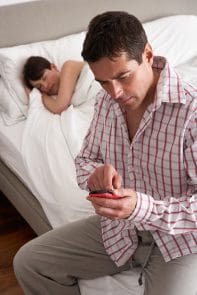 We have recently noticed an increasing trend in clients coming to us after they found evidence of cheating on their partner's mobile phone or social media accounts. We wanted to find out whether snooping on your partner was common, and what people perceive as cheating, so we commissioned a survey. The research showed that a high proportion of people – 35 per cent – have checked their partner's mobile phone, with four in ten of those doing so once a week. Perhaps most shocking was that one in five men who snoop admitted to using their partner's fingerprint while they were sleeping to access their mobile device.
What can I do if I find my partner has been snooping?
Being snooped on is not a pleasant experience and the unfortunate reality is that if your partner is checking your mobile, it is clear that they do not trust you. Frequently this can lead to a relationship breaking down. If you are married and have found them snooping, this could equate to controlling behaviour. This can be used as an example of "unreasonable behaviour" in a divorce petition.
What if I looked at my partner's phone and found that they have been unfaithful?
Our research revealed that over half of those who did snoop on their partners found evidence of cheating. But the research showed that what is considered as cheating is broadly defined. A total of 56 per cent said sexting – the sending of inappropriate picture messages – was cheating while 28 per cent said flirting was a betrayal. Incredibly, six per cent said just liking another person's social media posts too many times would be enough and one in nine said kisses at the end of messages would constitute cheating.
If there has been a breakdown in trust and confidence in a relationship due to their actions on social media, you are eligible to use it as evidence of unreasonable behaviour in a divorce petition in the context of an "improper association" or "improper relationship". It is important to note that it does not need to be a full blown affair for the purposes of unreasonable behaviour. However, to use adultery as a grounds for divorce there has to be evidence of sexual intercourse.
For further information please contact the family team at Hodge Jones & Allen.