Firework Injuries- How can the law help you?
Remember remember the 5th November. Bonfire Night is fast approaching and it is that time of year that fireworks are let off across the UK. As pretty as they look, fireworks are explosives that can reach speeds of 150 mph. The maximum burning temperature of a firework is 2,000 degrees Celsius and they are therefore extremely dangerous.
Since fireworks are explosive, there are strict rules in place in the UK regulating the sale, possession and the use of fireworks. Although fireworks are regulated, due to the obvious dangers, and despite safety warnings, accidents still do unfortunately happen.
The Law
In the UK fireworks are governed primarily by the Fireworks Regulations 2004 as amended by the Fireworks (Amendments) Regulations 2004 (designed to tackle the anti-social use of fireworks), the Pyrotechnic Articles (Safety) Regulations 2015 (dealing with the safety of fireworks as a consumer product) and the British Standards BS 7114.
Categories of Fireworks
BS 7114 defines four categories for fireworks:
Category 1 represent a very low hazard and are intended for use in confined areas examples include party poopers and sparklers.
Category 2 and 3 Adult fireworks are categories 2 (garden) and 3 (display), it is illegal to supply these to those under the age of 18.
Category 4 can only be purchased by trained professionals.
All fireworks offered for sale in the UK must carry the CE marking to show that they are safe and conform to European safety standards.
When can I set off fireworks?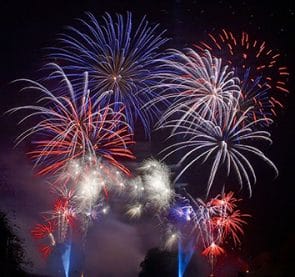 It is legal to set off fireworks in the UK all year round however, under the 2004 Regulations, it is an offence to set off fireworks between 11pm and 7am without permission, except on certain exceptions when the times are extended. The exceptions are Bonfire Night, New Year's Eve, Diwali and Chinese New Year.
The Health and Safety Executive (HSE) has published guidelines on holding private and public bonfire events. These guidelines offer advice on how to manage health and safety issues through organisation and planning.
Accidents caused by fireworks can happen for different reasons for instance because the firework is faulty or because the safety instructions have not been followed correctly or because they have been completely disregarded.
How do accidents happen?
1. Organisations
Accidents may be caused by the negligence of organisations such as local authorities. Local authorities must adhere to strict health and safety policies when arranging professional displays. For instance barriers should be placed to ensure that spectators remain a safe distance away from the fireworks.
If you have been injured at an event, the organiser of the event is usually liable. This is because the organiser has a legal duty to ensure the safety of spectators and any staff. If the organiser failed to follow any of the statutory requirements or safety guidelines then, their actions or inaction would likely amount to negligence, making a claim more likely to succeed.
An organiser of a public display should have insurance in place through which a claim can be pursued.
If you are injured you must report the injury to the organiser promptly, keep records of the name and contact number to whom the accident was reported and obtain contact details from witnesses. Ideally you would also take photographs of your injury.
2. Private individuals
Private firework displays are statistically more likely to result in injury, this is because they are not strictly regulated.
There are contributing factors that could lead to an accident i.e the product is used by untrained and inexperienced people, alcohol may have been consumed by those discharging the fireworks, there may be insufficient space within gardens to stand at a safe distance from the fireworks etc…
Therefore, individuals may be held responsible for injuries where the accident occurred at a private party. Pursuing a claim against an amateur organiser may be more difficult especially if they do not have any insurance.
3. Criminal Injuries Compensation Authority (CICA)
If a firework is illegally set off in the street or thrown at someone, the incident should be reported to the police.
In these instances, the injured individual might be entitled to claim compensation through the Criminal Injuries Compensation Authority ('CICA'). Hodge Jones & Allen generally do not deal with CICA claims (unless there are exceptional circumstances) however, such claims can easily be brought up by the victim without the need of a solicitor.
4. Defective products
If an accident took place because of a defective product, a claim could be made against a retailer, manufacturer or importer of those fireworks.
It will however be your duty to prove that the firework was defective in some way and that the defective product caused your injuries. It is therefore recommended to keep the firework packaging, instructions and the purchase receipt.
What kind of injuries do people get from fireworks?
As stated above fireworks are explosives they are therefore unsurprisingly capable of causing catastrophic life changing injuries. Following an accident, you should seek immediate medical attention.
Physical injuries resulting from a fireworks accident are:-
Minor or serious facial burns or burns on other parts of the body i:e hands, legs
Permanent scarring that could lead to disfigurement
Damage to the eyes or eyesight loss
Hearing loss
Nerve damage
Muscle damage
In addition, the psychological and emotional impacts could potentially be devastating too.
In conclusion, I would say have fun and enjoy the festive season but do remember to be safe and cautious.
If you have suffered an injury and would like to speak to our specialist personal injury solicitors please call us on 0808 271 9413 or if you prefer to email, please use our online contact form.