What are the options for dealing with your finances in a divorce?
Any good family law solicitor will always advise you to deal with finances at the same time as the divorce, as otherwise either you or your spouse could make financial claims against the other in the future. The only way to have full and final settlement of finances is with a divorce AND a court order specifying how capital, i.e. property, pensions, savings, and income is to be divided.
Ways in which you can settle finances on divorce:
1. Reach an agreement with your spouse
It is always best to attempt to reach an agreement with your spouse first, in the absence of court proceedings. This can be achieved between you and your spouse directly or through solicitor's negotiation, mediation or round-table meetings. This is the simplest and most cost effective way of reaching an agreement, although this approach is not suitable for all matters, especially if they are rather complex. If an agreement is reached then this should be recorded in what is known as a consent order as soon as possible and this will need to be ratified by the court.
2. Issue Court proceedings
If agreement is not possible, proceedings will have to be issued in order to get matters to progress or, if for example there is a sudden dissipation of assets by either party or threat of assets disappearing. The court will then put a timetable in place to be followed.
You can continue negotiating with your spouse throughout this process in the hope of avoiding a final hearing to reduce costs which can accrue. However, if you cannot reach an agreement then a final hearing will need to take place for a final order to be made, and the court will have the ultimate decision as to how capital and income is to be divided.
What is the Court process for financial provision proceedings?
First Appointment
Both parties must complete a Form E before this hearing. This form is essentially each parties' financial statement, disclosing their financial positions. Various documents will need to be disclosed with this statement.
At this hearing each party should set out the issues they would like to be resolved, e.g. valuations of property or jewellery or the requirement of expert opinion as to earning capacity or pensions. The judge will then give directions as to what needs to happen next for the matter to progress.
Financial Dispute Resolution Hearing
This hearing is an opportunity for negotiations between the parties. The parties' will be aided by their legal representatives and the judge.
Any discussions between the parties at this hearing are "without prejudice" in that what is said in attempt to reach a settlement cannot be used against the other if negotiations fall through.
The judge will make an order if an agreement is reached – this is ideal, and most matters do settle at this stage. However, if an agreement cannot be reached then the matter will proceed to a final hearing.
Final Hearing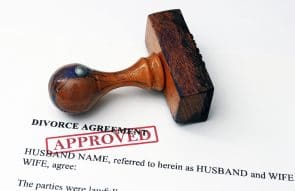 At this trial the judge will hear evidence from both parties and any experts and will then make an order dividing capital and income. The judge will ultimately have the final say.
The costs of proceedings will also be assessed at this hearing. The parties will usually bear their own costs, unless one party has been extremely unreasonable throughout proceedings.
Regardless of how an order is made, once it is made, the terms must be implemented and the parties must adhere to the provisions within the order, otherwise there is a risk that the matter could be brought back to court.