Does a Civil Partnership give me the same rights as a Marriage?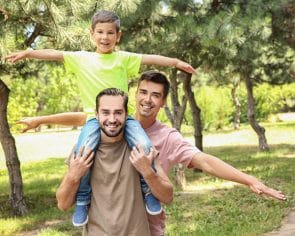 The current law on civil partnerships is governed by the Civil Partnership Act 2004 (CPA 2004). The Act defines civil partnership as a legal relationship between two people of the same sex, formed when they register as civil partners. A civil partnership will give a same-sex relationship added legal rights and responsibilities. It, in fact, places same-sex couples on a very similar footing to spouses who are married. The fundamental difference between marriage and civil partnership, is that only same-sex couples can enter into the latter. Some of the similar rights available to civil partners are summarised below.
Children
Civil partners have the same rights as spouses under the Children Act 1989. For example, a civil partner can apply for a Child Arrangements Order in relation to a child of the family and, a Parental Responsibility Order can be applied for like a step-parent of a married couple.
Domestic abuse
Civil partners are protected from domestic abuse in the same way as a spouse. For example, a civil partner can apply to the court for protection from domestic violence in the form of a Non-Molestation Order and, or Occupation Order.
Dissolution
A civil partnership can be ended in a similar way as a marriage can be ended. A final dissolution order or nullity order must be applied for in order to end the civil partnership, and marriage is dissolved by decree absolute.
Financial relief
Civil partners can claim financial relief in relation to dissolution and nullity orders, as spouses can in relation to divorce. This can include spousal maintenance, lump sum payments and rights in relation to property.
Death
Civil partners are treated the same as a spouse or former spouse, in relation to inheritance claims, in the event of death. If a civil partner has made a will, upon his/her death, the surviving spouse will inherit in accordance with the terms of the will and inheritance tax exemptions are also available for civil partners, as they are for spouses.
From Civil Partnership to Marriage
As civil partnership is different to marriage, civil partners cannot say they are "married" for legal purposes. The Marriage (Same Sex Couples) Act 2013 does however enable same-sex couples to marry. The Act itself does not prevent same-sex couples from entering into a civil partnership but enables same-sex couples to convert their civil partnership to a marriage. This is not mandatory.
Civil Partnerships for Heterosexual Couples
At present, the option of entering into a civil partnership is only available to same-sex couples. Heterosexual couples were not given this right, on the basis that legal rights could be obtained by marriage. However, the Supreme Court case involving Rebecca Steinfield and Charles Keidan – heterosexual couple – in June 2018, decided that it is against the human rights of heterosexual couples to be prevented from entering into a civil partnership. The Civil Partnerships, Marriages and Deaths (Registration Etc.) Bill 2017 – 2019, due for second reading in the House of Lords on 18th January 2019, aims to provide that heterosexual couples may enter into a civil partnership. It is not known how long this Bill will take to become final law. Progress of the Bill can be followed via this link.
Why have heterosexual couples campaigned for this right?
Many heterosexual couples view marriage as an institution and believe that it does not reflect the equal relationship that should exist between partners. For example, Rebecca Steinfeld and Charles Keidan in the above case argued that the "legacy of marriage… treated women as property for centuries" and this was not something they wished to subscribe to. Enabling heterosexual couples to enter into a civil partnership would therefore enable them to formalise their relationship – which is important to provide security for their partner and any relevant children – without adhering to what can be argued as traditional and patriarchal values.