Divorce and Financial Proceedings: How Do They Work Together?
Clients seeking legal advice about a divorce will almost always want to understand how the financial dealings and divorce process will work together.
Firstly, divorce and finances are two separate legal procedures. You can have a divorce without dealing with finances, but you cannot have a full and final agreement on finances that is legally binding unless you also have a divorce. Our specialist family solicitors will always advise you to deal with your finances at the same time as the divorce.
Here is a brief illustration to understanding the steps: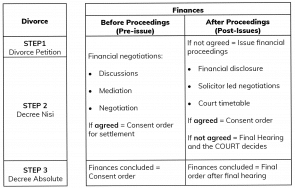 Divorce Petition (Step 1)
A Divorce Petition is lodged at the Court, by either party, and then divorce proceedings will begin.
The party who lodges the petition is known as the applicant or petitioner and the other party is known as the respondent. The respondent will consider the petition that is served on them and, if the grounds for the divorce are agreed, they will sign the acknowledgement of service. This is known as an undefended divorce.
What Shall I Consider Next?
Decree Nisi (Step 2)
Once the divorce petition is approved, an application for Decree Nisi is sent to the Court and they will set a date to "pronounce" Decree Nisi, in open Court by a Judge. Unless a good reason not to grant a divorce is produced. Neither parties need to attend Court for this.
After a Decree Nisi has been pronounced, there is a statutory period of 6 weeks and 1 day before the petitioner can apply for Decree Absolute.
Finances (Pre-issue)
Financial negotiations can begin at any stage, sometimes before a divorce petition is lodged. This is in order to reach a settlement that both parties are happy with, with minimal delay and cost. Parties do not need to issue financial proceedings for these to be dealt with, so if you and your partner can deal with finances amicably without the need for a solicitor or Court intervention, the process could be simpler and quicker.
If the parties do reach a financial settlement that they are happy with, the terms of the agreement must still be endorsed in a consent order that is lodged with the Court. Our expert solicitors can assist with drafting the consent order and, once we have seen the agreement between you and your spouse, we may be able to offer a fixed fee service.
Finances (Post-issue)
Dealing with finances can get heated, especially in marriages that are longer or with a complex, combined marital "pot". If financial discussions, negotiations or mediation are not getting you anywhere, or you feel that your partner is not providing full and frank disclosure of their finances, proceedings can be issued. This will, in part, enforce financial disclosure and a fixed Court timetable to encourage more robust negotiations.
An application for Financial proceedings can only be issued after a divorce petition is sent to court for issue.
Negotiations can continue after financial proceedings have been issued and if the parties can agree settlement, the terms, again, are endorsed in a consent order that is lodged at Court.
If negotiations continue and the parties cannot agree, a final hearing will be listed and the Court will make a decision with regards to finances. The terms of this decision will also be endorsed in a Court order.
The benefit of issuing financial proceedings is that finances will come to an end. There is a timetable that will end in a final hearing if the parties cannot conclude an agreement before. Mediation and negotiations are open ended and you may find yourself in and out of mediation or negotiations for years. If proceedings are issued and a Court timetable is put in place, the finances will certainly be resolved within the timeframe.
Separate guidance on the specifics of financial proceedings can be found here.
The Final Step to a Divorce
Decree Absolute (Step 3)
Decree Absolute is the final step in the divorce where the marriage will be legally dissolved. Both parties remain married up until this point.
Most divorces are held up at the Decree Nisi stage whilst finances are being dealt with. The reason for this is that if finances need to be resolved and your marriage legally ends before they are, your status as a spouse no longer exists and this could be problematic for claims relating to for example pension entitlement.
It is advisable that finances are resolved before the Decree Absolute stage. The petitioner will apply for Decree Absolute, however a respondent is also entitled to (in the 3 months after the initial 6 weeks and 1 day after Decree Nisi). This form is lodged with the Court and, once granted, the marriage is legally dissolved. The parties are legally entitled to remarry if they wish.
The HJA family team offer a fixed fee meeting with any fee-earner for £300 + VAT and a fixed fee divorce service (if eligible) for £999 + VAT and court fees. Eligibility depends on the specific facts of your case and please contact us for further details.