Artist Left 'Partially Blind' After Lens Replacement to Launch Legal Action
An artist who was left 'partially blind' following lens replacement surgery is launching legal action against the manufacturer.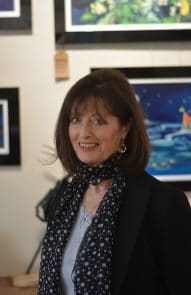 Denise Di Battista, 68, is one of dozens of people who are planning on going to court over the deterioration of their eyesight after having lenses implanted.
Denise, from Llanelli, Carmarthenshire, who has been an artist for 15 years, said she is "devastated" by the loss of sight in her right eye as it has affected her ability to paint.
She said: "If I was looking through my right eye, at times, I would think I was almost blind. It affects my painting and that depresses me terribly.
"This is so distressing for me. Nobody wants their eye sight to go, but I have been earning my living from using my sight for the past 15 years. As a result of my eyesight I have had to change my style as I can no longer do the fine art I could do in the past.
"It's difficult to paint as I can't see dark areas on the page. It's a real disadvantage. I'm really angry that this has happened. Ultimately I have had something put in my eye that wasn't fit for purpose."
Denise, who runs an art gallery in Llanelli with her husband, had what she thought was a routine lens replacement in both her eyes in 2010. She had lenses manufactured by European firm Oculentis implanted.
She said: "I was very short sighted and found it difficult to paint when taking my glasses on and off. I thought that if I had surgery it would correct the problem.
"Immediately after the surgery it was excellent, but after a while I started getting some mistiness in my right eye. The surgeon said she couldn't see anything and told me to come back in a year, which I was surprised with.
"By the time I saw somebody again it was pretty misty. I assumed I would go and have corrective surgery, but I was told that it wasn't a problem with my eye, it was a manufacturing fault on the lens. This really upset me as I had trusted them to put this in my eye.
"I was very, very shocked. When I came out of the consulting room, my daughter was waiting for me and she said I looked white.
"They said that I could have a replacement fitted, but the Consultant said that there were dangers involved. I wasn't prepared to do that, so was left with no other choice but to have my sight get increasingly worse.
"It's incredibly frustrating and I'm living with it every minute of every day."
Dozens of people have approached law firm Hodge Jones & Allen claiming they have suffered "opacification" – a cloudiness in their vision, believed to be caused by calcium phosphate deposits – on an implanted Oculentis prosthetic lens.
Oculentis has recalled stocks of the type of lens Denise had been given. They have offered to fund the cost of further surgery to replace the defective lens, but deny liability to pay any further compensation. They have now eliminated the risk of opacification from the lenses they are manufacturing.
Optical Express, the ophthalmic retailer which carried out the implant accepts the lenses were defective, but says it was the fault of the manufacturer and is not to blame.
Peter Todd, Partner at Hodge Jones & Allen, who represents Mrs Di Battista, said: "Mrs Di Battista has been left devastated by the deterioration in her sight. She is one of numerous people who we are representing in upcoming legal action against the retailers, finance companies and the manufacturer.
"All claim to have suffered similar experiences after having the lens implanted. We intend to launch legal proceedings in due course and will seek to prove that the lens was faulty and caused this deterioration in their sight. It is not currently known how many people in England and Wales have been similarly affected."